Compare Frisco Electricity Rates & Energy Suppliers
We analyze, rank, and recommend the best electricity plans from the highest rated providers in Frisco.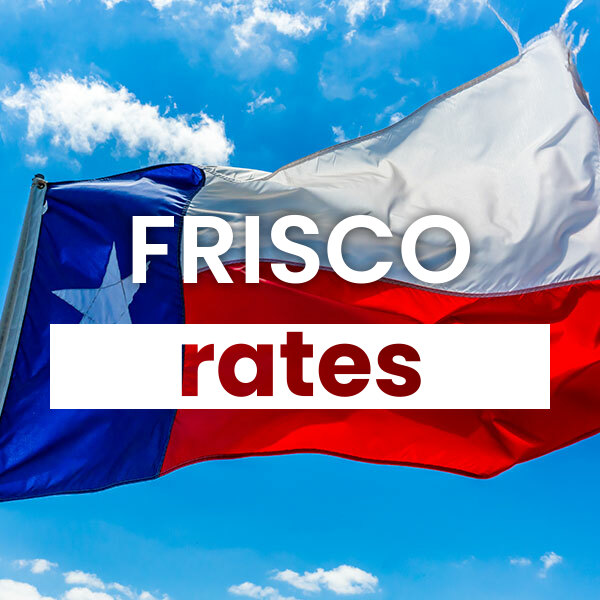 Top Five 12 Month Best Electric Rates for Frisco
Company
Term
Rate
Constellation
12/months
12.9¢/kWh
TXU Energy
12/months
13.9¢/kWh
Rates as of Sep 25, 2023 at 03:26 PM
Five Cheapest 24 Month Electricity Prices in Frisco
Company
Term
Rate
4Change Energy
24/months
11.1¢/kWh
Frontier Utilities
24/months
11.1¢/kWh
Gexa Energy
24/months
11.1¢/kWh
Champion Energy Services
24/months
14.8¢/kWh
Rates as of Sep 25, 2023 at 03:26 PM
Frisco's Top 36 Month Fixed Rate Electric Plans
Company
Term
Rate
Veteran Energy
36/months
12.5¢/kWh
BKV Energy
36/months
14.3¢/kWh
Rates as of Sep 25, 2023 at 03:26 PM
Average Electricity Rates & Energy Usage in Frisco
In November, the average electricity rate in Frisco was 14.82¢ per kWh. The average households monthly electricity usage was 845 kWh, making the average bill around $125.
based on EIA Data as of August, 2023
Frisco Energy Rates, Providers, and Plans FAQ
Maxx Saver Select 24 is the cheapest rate from 4Change Energy. It is a 24 month plan with a rate of 11.100 cents per kWh.

We recommend you compare electricity rates in Frisco and see if this plan is right for you.

The following rates are available from TXU Energy
Recent Customer Reviews about Electricity Providers
Excellent employee. Very kind and knowledgeable. Understanding and patient.
Belinda from Taylor, Texas
June 28th, 2023
Other information about electric rates in Frisco
Electricity Outages
To report an electricity outage or downed power line, contact xxxx at 000-000-0000
Cities Near
To report an electricity outage or downed power line, contact xxxx at 000-000-0000
Zip Codes
To report an electricity outage or downed power line, contact xxxx at 000-000-0000
About Frisco Texas
Frisco City History
Did you know that most settlers who were American pioneers traveled utilizing wagon trains via the Shawnee Trail? This trail was renamed Preston Trail and later changed to Preston Road. All these activities led to the foundation of a community called Lebanon along the trail, and they were granted a United States post office in 1860. It was in 1902when the St, Louis-San Francisco Railway was passing across the region, and random water spots were to be of great importance if placed along the routes used by steam locomotives.
The most recent settlement of the Lebanon community was along Preston Ridge, which was very high in elevation. The watering spot was approximately four miles towards the western side of the lower ground. Another community also grew along this stopping point, and some residents from the Lebanon community migrated into the new community in log houses. The United States Postal Service declined the name Emerson, which was to be given to the town since the name was close to another community called Emberson in Lamar County. The town was named Frisco City in 1904 in honor of the St. Louis-San Francisco Railway.
Frisco Culture
Frisco is home to the Museum of the American Railroad, based on the Frisco Heritage Museum, as the construction of a separate museum complex proceeds. A nearby Discovery Center features a National Videogame Museum, an art gallery, and a black-box theatre. In addition, several events are held at Frisco Square annually, including Christmas, Arts in the Square, and Music in the Square. It could also help if you knew that music is hosted in the Chamber Concert Series found in the chambers of the city's hall.
Landmarks in Frisco, TX
TrainTopia

This is an amazing train museum that has amazing cars on display. The museum was initially called the Age of Steam Railroad Museum because it had a wonderful collection of passenger, diesel, and steam and freight railroad equipment. The museum is also famous. It allows guests to walk through some equipment with the help of a tour guide.

Little Elm Park

This is an attractive beachfront recreational park with a lovely beach and not to mention amazing volleyball courts. The place is just a nice place, thus the reason why it should be a place to go with your children if they are the type of people who love swimming.
Tourist Attraction Sites in Frisco, TX
Arbor Hills Nature Preserve

This park spans 200 acres and is characterized by several amenities like an unpaved hiking trail, a paved hiking trail, restrooms, a well-kept pavilion, and a playground, to mention a few. The park is at 6701 W Parker Rd, Plano, 75093, TX, USA.

National Videogame Museum

Here is where you will find not only classic machines but also a little bit of video game history. The museum was opened in 2016, and it's designed with classic video game machines set in an arcade manner. There are also a few exhibits concerning the industry's history. The museum is located at 8004 Dallas Pkwy, Frisco, 75034, TX, USA.