Richardson Electricity Rates, Plans & Suppliers
Currently, the cheapest Richardson electricity rate is 15.4 ¢/kWh, 22% lower than the average rate of 19.7 &cent/kWh.
Based on recent order data, the best electricity providers in Richardson are Champion Energy Services, TXU Energy, and Constellation.
78% are choosing plans with a contract length of 12 months, with 24 month contracts being the second most popular choice at 24%.
The average electric bill in Richardson ranges from $180 to $310, with an average electricity usage of 1100-1400 kWh per month.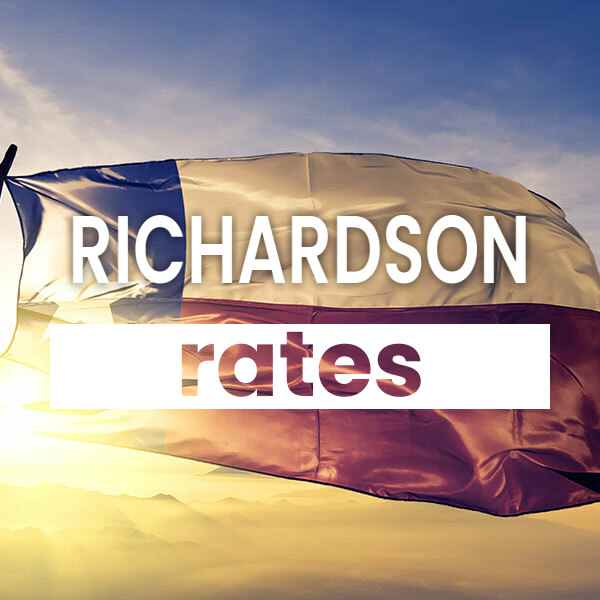 Five Cheapest Electric Rates for Richardson
Company
Term
Rate
Frontier Utilities
12/months
12.3¢/kWh
Gexa Energy
12/months
12.4¢/kWh
4Change Energy
24/months
12.5¢/kWh
Constellation
12/months
12.9¢/kWh
Discount Power
12/months
12.9¢/kWh
Rates as of Nov 28, 2023 at 07:26 AM
Green Energy Options in Richardson
Most Texas electricity companies have a 100% green / renewable energy plan, where 100% of the energy you buy supports renewable energy generators. Some Richardson electricity companies are exclusively green, where every plan is 100% green and prices and rates support 100% green energy and renewable generation.
Company
Term
Rate
Gexa Energy
12/months
12.4¢/kWh
Chariot Energy
24/months
14.8¢/kWh
Rhythm
24/months
15.3¢/kWh
GoodCharlie Energy
36/months
15.9¢/kWh
Champion Energy Services
24/months
16.0¢/kWh
Rates as of Nov 28, 2023 at 07:26 AM
Richardson's Top Electricity Companies
Richardson Power To Choose
In Richardson, having the "Power To Choose" means customers have their choice of dozens of great electricity plans from top-rated providers like these:
Richardson participates in Texas's deregulated electricity market, which means you have a choice of who will provide your retail electricity.
Compare Great Electricity Rates & Plans - Enter Your Zip Code
No Deposit & Prepaid Plans for Richardson
There are several no deposit light companies in Richardson that can get your lights on tonight. No deposit electricity plans require that you prepay for your electricity. You can order online, and deposit a small amount - generally $25-$75 and get your lights on in a few hours. Once you've ordered service, you download an app and that reminds you when you need to deposit more money to keep your lights on.
Company
Term
Rate
Payless Power
6/months
18.1¢/kWh
Payless Power
12/months
18.3¢/kWh
Rates as of Nov 28, 2023 at 07:26 AM
Richardson Rates, Plans and Provider FAQ
About Richardson Texas
Richardson City History
In the 1840s, immigrants from Tennessee and Kentucky settled on a piece of land known as Richardson. There was a small settlement named Breckenridge, currently under Richland College, which existed before the civil war. However, it was not until 1873 that a depot was constructed towards the northwest part of Breckenridge. After the state purchased some acres for a township from the natives, blocks and lots were laid out after a survey that was sold in 1874. Richardson City acquired its name from the railroad's secretary, Alfred S. Richardson. As of 1910, Richland had a total population of 600 citizens, and because of continued growth, a red brick schoolhouse was constructed. It is currently the administration office of the Richardson Independent School District. Greenville, initially named red brick road, was completed in 1924. Because of this road, the city experienced increased traffic, property values, and population growth.
Richardson Culture
Richardson is home to Charles W. Eisemann Center for Performing Arts. Additionally, the site is considered the main venue where the Richardson Symphony Orchestra takes place, not to forget the Plano Symphony Orchestra.
Landmarks in Richardson, TX
Adventure Landing Dallas

This is an amazing water theme park and a family entertainment spot. Upon visiting the space, you will have enough fun doing stuff in the mini golf. Additionally, it's quite an amazing place to visit with your family and friends for some amazing memories. They are known to have some good fries, and if you make it there with your baby, there's a cotton candy spot where they can enjoy it.

Texas Pool

This amazing place is registered in the national historic places and is also identified as one of Richardson's most amazing and welcoming spots. Their beautiful pool has an amazing environment that favors all ages. The pool's nice shape encompasses a children's swimming area, two slides, and a diving board.
Tourist Attraction Sites in Richardson, TX
Prairie Creek Park

This is quite an evergreen and scenic greenway with wonderful trails. The park has a waterfall, and this place is quite a wonderful place where you could take some morning walks or chill out with your pets frequently but ensure that all dogs are leashed to maintain the park's peace. Otherwise, the park is considered a hidden gem in the city. Some mini trails stem from the main ones that are rugged and lead deep inside the park for further exploration. If you love calm and relaxed environments, the park is full of benches where you can sit and enjoy the beauty of Mother Nature. The park's address is 2400 W Prairie Creek Dr, Richardson, 75080, TX, USA.

Cotton Woodpark

This is also a nice spot, more so for kids. They have a wonderful playground, and the park has more fun. You can do lots of things, including sliding, climbing, and spinning. Apart from being colorful, the park has some neat light all over. So if you love escaping reality for a while, you can hop on the merry-go-round and have fun with your kids. The park is at 1301 W Belt Line Rd, Richardson, 75080, TX, USA.