Victoria Electricity Rates, Plans & Suppliers
Currently, the cheapest Victoria electricity rate is 13.5 ¢/kWh, 35% lower than the average rate of 20.8 &cent/kWh.
Based on recent order data, the best electricity providers in Victoria are 4Change Energy, Champion Energy Services, and Frontier Utilities.
44% are choosing plans with a contract length of 12 months, with 24 month contracts being the second most popular choice at 24%.
The average electric bill in Victoria ranges from $160 to $310, with an average electricity usage of 1100-1400 kWh per month.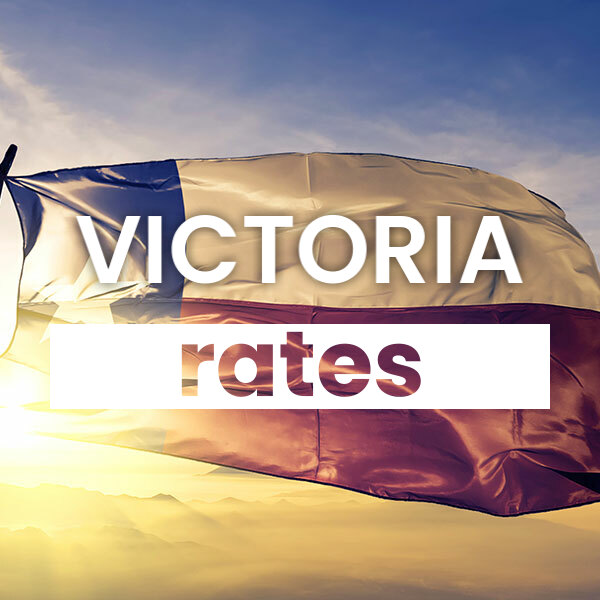 Five Cheapest Electric Rates for Victoria
Company
Term
Rate
Frontier Utilities
12/months
12.9¢/kWh
Gexa Energy
12/months
13.0¢/kWh
4Change Energy
24/months
13.1¢/kWh
APG&E
6/months
13.3¢/kWh
TriEagle Energy
24/months
13.9¢/kWh
Rates as of Nov 28, 2023 at 07:27 AM
Green Energy Options in Victoria
Most Texas electricity companies have a 100% green / renewable energy plan, where 100% of the energy you buy supports renewable energy generators. Some Victoria electricity companies are exclusively green, where every plan is 100% green and prices and rates support 100% green energy and renewable generation.
Company
Term
Rate
Gexa Energy
12/months
13.0¢/kWh
Chariot Energy
24/months
15.3¢/kWh
Rhythm
24/months
15.4¢/kWh
GoodCharlie Energy
36/months
15.9¢/kWh
Champion Energy Services
24/months
16.0¢/kWh
Rates as of Nov 28, 2023 at 07:27 AM
Victoria's Top Electricity Companies
No Deposit & Prepaid Plans for Victoria
There are several no deposit light companies in Victoria that can get your lights on tonight. No deposit electricity plans require that you prepay for your electricity. You can order online, and deposit a small amount - generally $25-$75 and get your lights on in a few hours. Once you've ordered service, you download an app and that reminds you when you need to deposit more money to keep your lights on.
Company
Term
Rate
Payless Power
6/months
18.6¢/kWh
Payless Power
12/months
18.9¢/kWh
Rates as of Nov 28, 2023 at 07:27 AM
Victoria Rates, Plans and Provider FAQ
About Victoria Texas
History of Victoria
Also known as Guadalupe Victoria, this amazing city was founded in 1824 by a Mexican impresario named Martin De Leon. The city was founded to honor Guadalupe Victoria, the first president of the Republic of Mexico. Initially, Victoria was part of De Leon's colony, founded in the same year. As of 1834, the town had an estimated population of 300 citizens. During the Texas Revolution, Victoria played a great role in contributing soldiers, not to mention supplies to the revolutionary soldiers.
In the mid-19 th century, the city experienced rapid population growth, most of whom were European immigrants, the Germans to be specific. The population growth rate was even higher at the end of this century because it had now become a regional trade center. The city's closeness to bigger cities like San Antonio and Austin gave it an advantage. In addition, the ports on the Gulf Coasts and successful industries in petrochemical and agriculture made it more prominent.
Victoria Culture
Victoria is associated with several performing arts and theatre events, among other venues. For example, the theatre in Victoria showcases six productions in a season that starts in July and ends in May. These performances occur in the newly reformed and fully equipped Leo J. Welder Center located downtown. In addition, many performances are done annually by the Victoria Ballet and the Victoria Symphony Orchestra.
Landmarks in Victoria, TX
Museum of the Coastal Bend

Suppose you are a person who is so much into history, more so history related to Texas, this is a must-visit place for you. The museum is a nice place to visit since there is a lot of information about the coastal bend. You will surely have a wonderful time while in this museum. Additionally, admission to the museum is free, but it won't hurt if you make a donation. Visit the museum and enjoy the several artifacts and a lot of information to read. For instance, you can enjoy the evidence showing the inhabitants dating back 13,000 years.

Nave Museum

This museum is designed with a small but quaint gallery. There is also the Carol Meyers gallery, that's very beautiful. The colors used on the galleries are very tempting and beautiful. You will enjoy the entire display upon visiting the museum. This is a never miss visiting place while in Victoria, TX.
Tourist Attraction Sites in Victoria, TX
Five Points Museum of Contemporary Arts

This is where you will find some modern exhibits in a sleek venue. Upon visiting the museum, you will have the opportunity to attend some shows performed by local painters, among other artists. They have a unique and fine way of showcasing art. The museum is at 1201 N Moody St, Victoria, 77901, USA.

Children's Discovery Museum

You will love this place upon visiting with your child. The museum is quite interactive since children are allowed to play with all the equipment on the site. Their play area is very clean, and their staff members are very nice and ready to assist. You can locate this amazing museum at 1205 Sam Houston Dr, Victoria 77901, TX, USA.