Your Power to Choose—Why ERCOT's Power Pond Got Just a Little Smaller
Posted on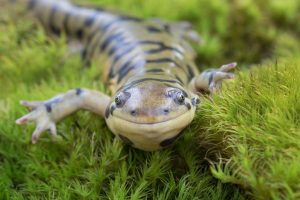 Is my electric company leaving Texas?
During Texas droughts, the pond gradually shrinks to a puddle, the ubiquitous barred tiger salamander will turn cannibal, devouring each other until there's only one big salamander left in the muddy ooze. The barred tiger salamander's om-nom-nom behavior ominously resonates with the latest Texas retail electricity news. Not only is about half of the Lone Star state in drought under a hot, August sun, but recently parts of two more Texas electricity retailers have suddenly —and predictably— been consumed by another. NRG's Cirro Energy announced this week that it has acquired the customers of two of its Texas electricity provider competitors this week. Pioneer Energy of Sugar Land has notified its customers that their retail electric service will be transferred to Cirro Energy in August. Stat Energy of Richardson notified its customers that they would be transferred to Cirro in July. Details of the deal are confidential and Cirro is not saying yet just how many customers were involved in the transaction. The news of NRG's snapping up the customer books of its competitors follows after the energy company shed half of its power generation plants to pay off $7 billion in debt to focus more on retail energy. In June, it wrapped up buying energy retailer XOOM Energy for $210 million. NRG's President and CEO, Mauricio Gutierrez said that his company was enjoying a very successful 2nd quarter and that NRG was "always looking for books that we can add to our retail business, and that's what they were." With electricity market prices regularly spiking from $30 to $2000 per mWh, ERCOT's summer market is proving a very volatile and expensive environment to do business, especially for smaller electricity retailers. Apart from emailing customers to conserve energy bigger electricity provider companies have the money and credit to hedge years in advance against surging scarcity pricing in ERCOT. NRG, for example, is the largest retail electric provider in Texas and apart from Cirro Energy, it also owns Reliant Energy, Green Mountain Energy and Pennywise Power.
Power Plays—just some healthy competition
Of course, the way things have gone this summer, it's not so surprising to find big electric companies swallowing up smaller ones. Until ERCOT is able to attract more generation to build capacity and stabilize pricing to allow more competition in it's power pond, this will be the natural order of things. As we've noted in a past Texas retail electricity provider blog article, several providers have either failed or fled the pond altogether. And that's not a bad thing. After all, when you're looking for a cheap electricity rate you want to have strong, stable companies that can tolerate the heat of the marketplace without burning their customers with sky-high rates. So, there's no need to panic. There will doubtlessly be a number of providers that survive this year and grow stronger from the experience. Consumers may even to find some great deals when they shop and compare electricity plans later in the fall as providers reassert themselves. And fortunately there are many, many safeguards in place to prevent one Texas electric company from eventually becoming Mudpuppy Supreme. Still, midway through the summer cooling season and this salamandarish-ness in the Texas electricity market going on, it's tempting to wonder how far the feeding frenzy could go.