2020 Best Texas Electricity Provider Ratings
Posted on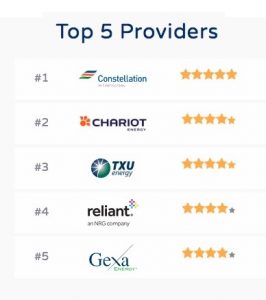 Who Is The Best Electricity Supplier In Texas?
Neither snow nor rain nor heat nor gloomy pandemic stays the need for electricity in Texas. It's for that very reason that Texas Electricity Ratings has released their annual rankings for the best retail electricity providers in the state of Texas.
Ranking Texas Retail Electricity Providers
Energy providers have been competing harder than before, especially with electricity prices being lower than this time last year. Consequently, this year's choices were tough. Texas Electricity Ratings compares and rates providers based on five main criteria:
Plans and Products — How good are their electricity plans and prices? Do they offer green, earth-friendly deals? What about their tiered rates?
Complaint Resolution — How well do they handle customer complaints? Do they resolve problems?
Community Outreach — How responsive are they to the communities that they serve?
Innovation — Are they tech savvy? Do they try new ways to improve Texas electricity service?
Rewards — How well do they treat good, loyal customers? Do they offer extras like rewards and incentives to keep their customers with them?
Market Perception — How does the overall market view them? What do the Better Business Bureau, the Texas PUC, and other organizations say about them?
Top Rated Five Electricity Suppliers in Texas
The 2020 Best Texas Electricity Provider is Constellation Energy. Originally entering the Texas market several years back as StarTex Power, Constellation Energy has been forging a name for itself competing against long established brands. It combination of great rates, rewards and incentives, and great customer reviews have made it this year's number one ranked provider. Right behind in second place is Chariot Energy . Scarcely operating in Texas for less than one year, Chariot Energy supports green energy with 100% solar power at low rates. Coupled with strong reviews and customer communication, this upstart company is offering Texas electricity customers a clear alternative. At number three is venerable TXU. Though it's one of the oldest electricity providers, it continues offering a broad set of plans and options for electricity customers. As one of the oldest, it has one of most involved Community Outreach efforts of any electricity provider. In the fourth place, another former incumbent utility provider, Reliant Energy, ranks high Community Outreach and Customer Communication. One of the biggest retailers in Texas, Reliant also scored well on Innovation and Rewards. At fifth, Gexa Energy offers a great selection of plans that include 100% green energy and unique customer satisfaction program. Customers can switch to a different Gexa electricity plan within the first 60 days of service without penalty if they're unhappy.
How Good Is My Texas Electricity Provider?
Whether you're new to shopping for retail electricity or you're just looking for a new Texas energy supplier, knowing how good an electricity company can make all the difference. And that's especially true in the summer heat. Check out our rankings of the best Texas electric companies to find out more. Don't forget to also see how Texas Electricity Providers did in our People's Choice rankings, based on customer reviews.