Lufkin Electricity Rates, Plans & Suppliers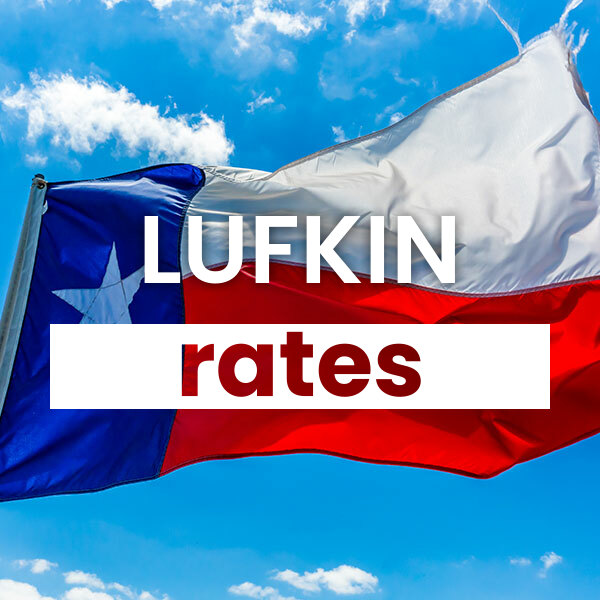 Recommended plans in Lufkin
Our Review: Champions plans are all pretty similar, and their 24 month plan is more of the same. Champion plans are flat and have similar kWh rates across the three different usage thresholds, which means that customers won't have any big bill surprises in store if they use 500 kWh, 1500 kWh, or 2500 kWh. The plan has a pretty competitive energy charge, which also keeps your monthly bills low. The plan has no monthly recurring or base charge, and it has a cancellation fee of $250. So be sure not to cancel your conract after only a year. Also, most importantly, this plan is an All Included deal. So when you're looking at the EFL, you will see that the kWh rate you see advertised includes all of the TDU transportation fees, as well. Which is why the rate might look high, but the bills are reasonable.
Pros: Champion's 24 month plan is predictable, pretty affordable, and comes with no surprises.
Cons: Not the absolute cheapest plan out there, but not the most expensive.
Plan Type: Fixed Rate
Rate: 14.7 - 16.3 cents per kWh
Term: 24 Months
Our Review: Champions plans are all pretty similar, and their 12 month plan is no different. Champion plans are flat and have similar kWh rates across the three different usage thresholds, which means that customers won't have any big bill surprises in store if they use 500 kWh, 1500 kWh, or 2500 kWh. The plan has a pretty competitive energy charge, which also keeps your monthly bills low. The plan has no monthly recurring or base charge, and it has a cancellation fee of $150. So be sure not to cancel your conract a month early. Also, most importantly, this plan is an All Included deal. So when you're looking at the EFL, you will see that the kWh rate you see advertised includes all of the TDU transportation fees, as well. Which is why the rate might look high, but the bills are actually fairly low.
Pros: Champion's 12 month plan is predictable, pretty affordable, and comes with no surprises.
Cons: Not the absolute cheapest plan out there, but not the most expensive.
Plan Type: Fixed Rate
Rate: 14.8 - 16.4 cents per kWh
Term: 12 Months
Our Review: 4Change's Maxx Saver Select 24 plan is one of many bill credit plans that have limited utility. The $100 bill credit kicks in at a usage level of 1k, so for anyone using less than that each month, like an apartment dweller, the plan rate is horribly high. If they use over a 1k, the bill credit kicks in and the rate becomes pretty competitive. But if you use much more over 1k, the the very high energy charge of the plan takes over and that bill credit becomes less and less effective.
Pros: This plan has a huge bill $100 credit at 1k kWh of usage
Cons: If you use under 1k or well over 2k, the bill credit basically doesn't help you
Plan Type: Bill Credit
Rate: 12.3 - 23.6 cents per kWh
Term: 24 Months
Five Cheapest Electric Rates for Lufkin
Company
Term
Rate
4Change Energy
24/months
12.3¢/kWh
Frontier Utilities
12/months
12.3¢/kWh
Gexa Energy
12/months
12.3¢/kWh
Discount Power
12/months
12.9¢/kWh
Cirro Energy
24/months
12.9¢/kWh
Rates as of Dec 09, 2023 at 12:27 PM
Green Energy Options in Lufkin
Most Texas electricity companies have a 100% green / renewable energy plan, where 100% of the energy you buy supports renewable energy generators. Some Lufkin electricity companies are exclusively green, where every plan is 100% green and prices and rates support 100% green energy and renewable generation.
Company
Term
Rate
Gexa Energy
12/months
12.3¢/kWh
Rhythm
19/months
14.6¢/kWh
Chariot Energy
24/months
14.8¢/kWh
Champion Energy Services
24/months
15.8¢/kWh
GoodCharlie Energy
36/months
15.9¢/kWh
Rates as of Dec 09, 2023 at 12:27 PM
Lufkin's Top 5 Electricity Companies
Power to choose in Lufkin
Before electricity deregulation, Lufkin electricity customers had to purchase their electricity from a monopoly utility company. That all changed in the early 2000s, and people in Lufkin got the power to choose their electric provider.
Since then, you've been able to pick your own electricity plan from dozens of companies, including:
Switch Today and Save! Get Started - Enter Your Zip Code
No Deposit & Prepaid Plans for Lufkin
There are several no deposit light companies in Lufkin that can get your lights on tonight. No deposit electricity plans require that you prepay for your electricity. You can order online, and deposit a small amount - generally $25-$75 and get your lights on in a few hours. Once you've ordered service, you download an app and that reminds you when you need to deposit more money to keep your lights on.
Company
Term
Rate
Payless Power
6/months
17.9¢/kWh
Payless Power
12/months
18.4¢/kWh
Rates as of Dec 09, 2023 at 12:27 PM
Lufkin Rates, Plans and Provider FAQ