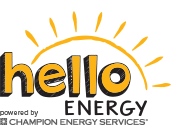 Quick Links
Ratings & Reviews
Recommended Plans
All Plans
Pre-paid
1 Month
Pre-paid
Month-to-Month
Free Weekends

Rate:
Rate Type:
Pre-paid
Term Length:
1 month
Early Termination Fee:
$0
Monthly Recurring Charge:
$0.00
Important Documents:
Info
Most Recent Hello Energy Reviews
Very Pleased!
We had a severe winter storm come through yesterday and everyone power was out that I know however mines was on. I was very pleased.

— KD from Richmond TX
Gary Garcilazo
Very happy

— Gary Garcilazo from Killeen TX
Aweaome
I love how I finally got good service.

— Dayana from Fort Worth TX
4-5 Star Reviews: 18 (60%)
Very Pleased!
We had a severe winter storm come through yesterday and everyone power was out that I know however mines was on. I was very pleased.
Good company watch your bill though
Just keep an eye on their rates and the rates from power to choose because they don't match up and they'll try to tell you that it takes a couple days to update just call them and tell them that they're wrong
1-2 Star Reviews: 11 (37%)
I wasted time and money.
I signed up through a third party website without knowing. Put down more than what I was supposed to for a deposit (75$ instead the minimum I was later told) because the information was convoluted and all over the place. Then the electricity was sent to the wrong location without speaking to anybody to confirm. Then I had to wait 45 days to get my money back, by check in the mail, while each day a little bit of my balance was used up, even though no electricity was being used in the location. When the check arrived in the mail, it wasnt even in a security envelope you couldnt see through. It was quite apparent it was a check. All in all, my experience was not a good one.
Hello Energy News
No applicable blogs have been written

Hello Energy FAQs
What is the cheapest plan that Hello Energy has?
---
The cheapest plan Hello Energy has is Free Weekends, with rates starting at 20.5. This is a 1 month plan.
Where can I order Hello Energy electricity?
---
Hello Energy has electricity plans in Texas
Where can I order Hello Energy natural gas?
---
Hello Energy does not have any natural gas plans
What do customers think about Hello Energy?
---
That depends on who you ask. There will always be someone who feels wronged by a company, no matter how good they actually are. The average Hello Energy customer review is 3.4 / 5 stars. Keep in mind, consumers will go out of their way to complain far more often than they will to give praise.
Why is my electricity rate higher than when I signed up?
---
The rate you see when you sign up is the average rate at that exact amount of usage in one billing cycle. Some companies try to game the system by applying bill credits between certain usage thresholds. It works great if you are within the margins, but as soon as you leave that band you no longer get that bill credit and your rate per kWh can double. The PUC only requires that companies disclose their average rates at 500, 1000, and 2000 kWhs. Companies can get around this by giving you a $50 bill credit if you use between 1000 and 2000 kWhs per billing cycle. The only way to really know what you're getting into is to read your EFL. A 10¢ rate at all usage amounts may end up being cheaper than that 8¢ rate at 1,000 kWh!
Hello Energy Plan Summary
Total Plans
1
show/hide details