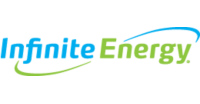 Infinite Energy Resources

Infinite Energy was founded in Florida in 1994 to service competitive natural gas customers. They new service customers for retail natural gas in Florida, Georgia, New Jersey and New York. In 2010 Infinite Energy started offering retail electricity service to both residential and commercial customers in Texas.
---
Recommended Infinite Energy Plans
---
Most Recent Infinite Energy Reviews
The Dynamic Duo!
I decided to switch from GA Natural Gas so I called and spoke with a nice gentleman by the name of Elias. Elias was so patient and kind and explained all of the different programs I was eligible for and how they worked. He even told me he would call me back to ensure I locked in my new rate. I called back and got Alan. Alan told me I didn't need a deposit now because the requirements had changed since speaking with Elias. He was also patient, knowledgeable (just like Elias), and kind. I am feeling very happy that I made the switch. I feel like I am in good hands.

— Waller Family from Atlanta GA
Infinite Energy Review
My interaction with customer service was easy and quick.

— Infinite Energy Review from Flowery Branch GA
Home
a good experience

— Frances Johnson from Norcross GA
4-5 Star Reviews: 62 (47%)
Patience and Competence
I am new to reside in Texas and Ed with Infinity Energy made my experience and the signing up process very easy. He was helpful, patient, competent and kind. Thank you!
3-4 Star Reviews: 12 (9%)
Ordering from Infinite Energy
As I was approaching the end of the contract I had with Star-Tex Power (Constellation), I approached IE because they offered a fixed low price for a lengthy period of time. On or about August 9, 2018, I called to enroll with them and asked for a start date of August 24 so as not to incur any charges from exiting too soon from STP. I was assured that would be done. At 4:00 p.m. that afternoon I received an email from IE thanking me for choosing them and informing me that I was already enrolled. When I contacted IE again, they informed me that their system automatically selects "first available." When I informed them that I was explicitly told that my service with them would not begin until August 24 (which they confirmed from their own record of the conversation), they had to begin a rather convoluted process of switching me back to STP for approximately two weeks and then reestablishing my service with them. In my opinion, this was completely unnecessary and should have been handled in a more conscientious way.
2-3 Star Reviews: 18 (14%)
Not satisfied
We didn't renew the contract as their prices were becoming higher and higher and we decided to move to another provider. After a month we received the bill-they charged us for the whole month when we used only 10 days. Called the customer service they say it is because of your plan usage from 0-1000 is charged fully. So let me understand this even if we used 0.005 we would be charged the whole amount. Havent seen this with any other company. It is not about the money but about the fact that big businesses become big by stealing from the nation. Not satisfied at all.
1-2 Star Reviews: 44 (33%)
do not sign up
summer months so it drives up your bill significantly!

I recalled to renew my contract with them under the impression I was going with a new plan. (5.8c per kwh flat) I had called customer service to ask if it was 5.8 cents per flat and they had a ROUNDABOUT WAY OF ANSWERING. I literally asked Is this 5.8 cents per kwh no matter how much before I got cut off with her answering Yes, so this is going to be the same plan as you currently have just locked in at a cheaper rate for 4 years. Notice how the customer service said yes to my question but then switched to saying it was my same plan! TLDR; They still are charging 20 cents per KWH after 1000.

Talking to their customer service is even worse than dealing with their horrible rates. I literally would have been satisfied with continuing my contract as is if they had helped alleviate my bill for ONE MONTH (out of a 48 month contract) but it was so hard talking to them. Please dont sign up with them!
Infinite Energy News
Shop Short Term Fixed-Rate and Prepaid Dallas Electricity
Don't get steamed over high Dallas electricity rates! Let us show you the best energy plan for your college apartment that fits your needs! What's My Best Option for a Cheap Electricity Plan in Dallas? Shopping for the cheapest electricity rates in Dallas can be challenging, especially if you...
Best Short Term Fixed Rate Electricity Plans in Dallas
Loosing your cool while shopping for a short term fixed rate plan to tide you through summer? Don't sweat it! We've found the best short term electricity plans in Dallas with the cheapest rates! What Are the Cheapest Short Term Plans in Dallas? With Texas heat driving up energy bills, you mi...
Three Cheapest Fixed Rate Electricity Plans in Houston
Shopping for the cheapest Houston electricity rate is much easier when you know your usage. Find out who is offering the best rates right now that are beating the Texas summer heat! How can I get cheap Houston electricity? Finding cheap electricity during the hot Texas summer is a tall task. As...
Infinite Energy FAQs
Where can I order Infinite Energy electricity?
---
Infinite Energy does not have any electricity plans
Where can I order Infinite Energy natural gas?
---
Infinite Energy has natural gas plans in Georgia, and New Jersey
What do customers think about Infinite Energy?
---
That depends on who you ask. There will always be someone who feels wronged by a company, no matter how good they actually are. The average Infinite Energy customer review is 3.6 / 5 stars. Keep in mind, consumers will go out of their way to complain far more often than they will to give praise.
Why is my electricity rate higher than when I signed up?
---
The rate you see when you sign up is the average rate at that exact amount of usage in one billing cycle. Some companies try to game the system by applying bill credits between certain usage thresholds. It works great if you are within the margins, but as soon as you leave that band you no longer get that bill credit and your rate per kWh can double. The PUC only requires that companies disclose their average rates at 500, 1000, and 2000 kWhs. Companies can get around this by giving you a $50 bill credit if you use between 1000 and 2000 kWhs per billing cycle. The only way to really know what you're getting into is to read your EFL. A 10¢ rate at all usage amounts may end up being cheaper than that 8¢ rate at 1,000 kWh!
All Infinite Energy Plans