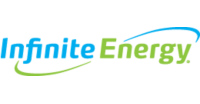 Infinite Energy Resources

Infinite Energy was founded in Florida in 1994 to service competitive natural gas customers. They new service customers for retail natural gas in Florida, Georgia, New Jersey and New York. In 2010 Infinite Energy started offering retail electricity service to both residential and commercial customers in Texas.
---
Recommended Infinite Energy Plans
---
Most Recent Infinite Energy Reviews
Great company
This is our first year with Infinite and we renewed our contract for another year.
We are well pleased with their service.
Thanks — Jose from Macon GA
Had lowest bills ever with Infinite Energy in 2019/20
We're not sure why people give your company 3.5 stars.
We didn't have one problem all winter with any of your services.
Please don't disappoint us this year! THANK YOU! — JB from Cumming GA
The best!
The whole gas services process in Georgia is difficult to understand. I have had 3 or 4 billing companies during the past 15 years. Infinite made the transition process very simple and that makes me happy!

— TMC from Dawsonville GA
4-5 Star Reviews: 58 (50%)
Sad to leave
My experience with Infinite has definitely been a awesome one. I've been with Infinite for 3years and my electricity bills have always been low. My contract will expire this month and I'm disappointed that I'm not able to get a good rate anymore due to being an existing customer. :( . I am having a difficult time finding a provider that is as good as Infinite.


3-4 Star Reviews: 11 (9%)
Infinite energy review
I called to establish residential service for my home.
I made only 1 call and the young man was able to answer all of my questions and provide alternatives as well.
Very professional, friendly, and informative.
A truly professional company not just worried about the bottom line, but also concerned about providing world-class customer service!
2-3 Star Reviews: 15 (13%)
Constant Harassment
Is your gas bill completely paid up?

Are you a month behind?

It doesn't matter, either way you will get to experience a plethora of phone calls and emails from Infinite energy on a monthly basis.

Who needs friends and relatives when you have your gas company constantly contacting you?

Do you use your telephone for work? Infinite energy will go out of their way to make your job harder through their constant, unnecessary phone calls.

Get tired of it and actually answer the phone and beg them on at least 3 separate occasions (in a 2 year period) to stop...and get empty assurances that they're going to stop constantly contacting and take you off their marketing list. Only to have completely wasted your time as nothing changes.

Don't make the mistake I did, go with Atlanta Gas.
1-2 Star Reviews: 34 (29%)
Lies and I'm disappointed ...
They are the best when you are a new customer at their low rate but once you sign a contract (because you want to be loyal) it's over! They will increase your usage and you can't figure out why. You get your crazy high bill; yet, you can't see the invoice detail. You are still baffled and confused, so you start doing dishes by hand, not using your dryer, cutting the wash down and turning off the AC. I never use light but I started leaving the couple lamps off. Turning tv's off and unplugging anything that might be adding this unusual increase in usage.
You call, they always blame the AC and summer yet I am consistent from year to year and month to month. One person with same habits.
One bedroom 900 as ft apt and my bill usage was 1600 kilowatts. The highest it's ever been was one summer when my dog was dying and I was doing her bedding a lot so it was 1400 klw.
When I first moved in and I had to wash all my linens, blankets and clothes it wasn't 1600 klw. it was 1275klw in June in Texas same month as now and it's all the sudden 1600 klw.
I bragged to everyone and I'm in real estate. I will now make sure to tell everyone NO now.
They want me to pay $200ish to terminate and $200ish for the ring doorbell I could easily return as it's still in the box.
I loathe these people for lying. I asked her how much my biggest bill would be at my highest usage at the new rate she said; it shouldn't be more then $125ish my bill is over $165. I'm cancelling services because I don't trust them and I don't want to think about them ripping me off every month. I'll take the hit before I let them rip me off every month with lies about my usage!
Infinite Energy News
Shop Short Term Fixed-Rate and Prepaid Dallas Electricity
Don't get steamed over high Dallas electricity rates! Let us show you the best energy plan for your college apartment that fits your needs! What's My Best Option for a Cheap Electricity Plan in Dallas? Shopping for the cheapest electricity rates in Dallas can be challenging, especially if you...
Best Short Term Fixed Rate Electricity Plans in Dallas
Loosing your cool while shopping for a short term fixed rate plan to tide you through summer? Don't sweat it! We've found the best short term electricity plans in Dallas with the cheapest rates! What Are the Cheapest Short Term Plans in Dallas? With Texas heat driving up energy bills, you mi...
Three Cheapest Fixed Rate Electricity Plans in Houston
Shopping for the cheapest Houston electricity rate is much easier when you know your usage. Find out who is offering the best rates right now that are beating the Texas summer heat! How can I get cheap Houston electricity? Finding cheap electricity during the hot Texas summer is a tall task. As...
Infinite Energy FAQs
Where can I order Infinite Energy electricity?
---
Infinite Energy does not have any electricity plans
Where can I order Infinite Energy natural gas?
---
Infinite Energy has natural gas plans in Georgia, and New Jersey
What do customers think about Infinite Energy?
---
That depends on who you ask. There will always be someone who feels wronged by a company, no matter how good they actually are. The average Infinite Energy customer review is 4.1 / 5 stars. Keep in mind, consumers will go out of their way to complain far more often than they will to give praise.
Why is my electricity rate higher than when I signed up?
---
The rate you see when you sign up is the average rate at that exact amount of usage in one billing cycle. Some companies try to game the system by applying bill credits between certain usage thresholds. It works great if you are within the margins, but as soon as you leave that band you no longer get that bill credit and your rate per kWh can double. The PUC only requires that companies disclose their average rates at 500, 1000, and 2000 kWhs. Companies can get around this by giving you a $50 bill credit if you use between 1000 and 2000 kWhs per billing cycle. The only way to really know what you're getting into is to read your EFL. A 10¢ rate at all usage amounts may end up being cheaper than that 8¢ rate at 1,000 kWh!
Recommended Infinite Energy Plans
All Infinite Energy Plans