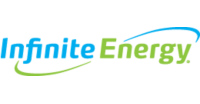 Infinite Energy Resources

Infinite Energy was founded in Florida in 1994 to service competitive natural gas customers. They new service customers for retail natural gas in Florida, Georgia, New Jersey and New York. In 2010 Infinite Energy started offering retail electricity service to both residential and commercial customers in Texas.
---
Recommended Infinite Energy Plans
---
Most Recent Infinite Energy Reviews
Finally, a real person in customer service.
Finally, a real person in customer service! Bryce was exceptionally polite, professional, knowledgeable and patient. He thoroughly reviewed with me all my options and I ended up with a great rate. I would not hesitate to recommend IE.

— Esther J. from Cumming GA
Excellent Customer Service
Chris found me a great rate! He was pleasant, super friendly, and accommodating in making sure I was taken care of (Excellent Customer Service)! He is what customer service is all about!! Hes an asset to your company!!! Thank you Chris for going above and beyond the call of duty!!! Because of Chris, I am a very satisfied customer!

— PPowell from Hiram GA
Outstanding Customer Service
Chris found me a great price! He was so pleasant, very friendly and accommodating to make sure I was taken care of. He is what customer service is all about! Hes an asset to your company!! Thank you Chris!!!

— PPowell from Hiram GA
4-5 Star Reviews: 52 (48%)
Patience and Competence
I am new to reside in Texas and Ed with Infinity Energy made my experience and the signing up process very easy. He was helpful, patient, competent and kind. Thank you!
3-4 Star Reviews: 10 (9%)
Ordering from Infinite Energy
As I was approaching the end of the contract I had with Star-Tex Power (Constellation), I approached IE because they offered a fixed low price for a lengthy period of time. On or about August 9, 2018, I called to enroll with them and asked for a start date of August 24 so as not to incur any charges from exiting too soon from STP. I was assured that would be done. At 4:00 p.m. that afternoon I received an email from IE thanking me for choosing them and informing me that I was already enrolled. When I contacted IE again, they informed me that their system automatically selects "first available." When I informed them that I was explicitly told that my service with them would not begin until August 24 (which they confirmed from their own record of the conversation), they had to begin a rather convoluted process of switching me back to STP for approximately two weeks and then reestablishing my service with them. In my opinion, this was completely unnecessary and should have been handled in a more conscientious way.
2-3 Star Reviews: 14 (13%)
Not satisfied
We didn't renew the contract as their prices were becoming higher and higher and we decided to move to another provider. After a month we received the bill-they charged us for the whole month when we used only 10 days. Called the customer service they say it is because of your plan usage from 0-1000 is charged fully. So let me understand this even if we used 0.005 we would be charged the whole amount. Havent seen this with any other company. It is not about the money but about the fact that big businesses become big by stealing from the nation. Not satisfied at all.
1-2 Star Reviews: 33 (30%)
Do not ever use this company!!!
I did purchase their tricky plan last year and end up paying around $500 per month for my 2 bedroom apartment. Tried to cancel or change the plan and find out it is better to keep the plan since cancellation fee and other things are too high. Customer service is unhelpful, instead of finding the solution, they will try to explain the plan everytime. Worst company. You can not find their google review since google hides it for advertising google product on infiniteenergy.com website. WORST...
Infinite Energy News
Shop Short Term Fixed-Rate and Prepaid Dallas Electricity
Don't get steamed over high Dallas electricity rates! Let us show you the best energy plan for your college apartment that fits your needs! What's My Best Option for a Cheap Electricity Plan in Dallas? Shopping for the cheapest electricity rates in Dallas can be challenging, especially if you...
Best Short Term Fixed Rate Electricity Plans in Dallas
Loosing your cool while shopping for a short term fixed rate plan to tide you through summer? Don't sweat it! We've found the best short term electricity plans in Dallas with the cheapest rates! What Are the Cheapest Short Term Plans in Dallas? With Texas heat driving up energy bills, you mi...
Three Cheapest Fixed Rate Electricity Plans in Houston
Shopping for the cheapest Houston electricity rate is much easier when you know your usage. Find out who is offering the best rates right now that are beating the Texas summer heat! How can I get cheap Houston electricity? Finding cheap electricity during the hot Texas summer is a tall task. As...
Recommended Infinite Energy Plans
All Infinite Energy Plans
36 months
$
115
est. avg. bill
Based on a
yearly usage curve
averaging
0
kWh per month
36 months
$
115
est. avg. bill
Based on a
yearly usage curve
averaging
0
kWh per month
36 months
$
115
est. avg. bill
Based on a
yearly usage curve
averaging
0
kWh per month
24 months
$
119
est. avg. bill
Based on a
yearly usage curve
averaging
0
kWh per month
36 months
$
117
est. avg. bill
Based on a
yearly usage curve
averaging
0
kWh per month
24 months
$
117
est. avg. bill
Based on a
yearly usage curve
averaging
0
kWh per month
24 months
$
117
est. avg. bill
Based on a
yearly usage curve
averaging
0
kWh per month
24 months
$
117
est. avg. bill
Based on a
yearly usage curve
averaging
0
kWh per month
12 months
$
119
est. avg. bill
Based on a
yearly usage curve
averaging
0
kWh per month
18 months
$
123
est. avg. bill
Based on a
yearly usage curve
averaging
0
kWh per month