Galveston Electricity Rates, Plans & Suppliers
Currently, the cheapest Galveston electricity rate is 12.9 ¢/kWh, 30% lower than the average rate of 18.5 &cent/kWh.
Based on recent order data, the best electricity providers in Galveston are Champion Energy Services, Constellation, and 4Change Energy.
71% are choosing plans with a contract length of 12 months, with 24 month contracts being the second most popular choice at 24%.
The average electric bill in Galveston ranges from $150 to $310, with an average electricity usage of 1100-1400 kWh per month.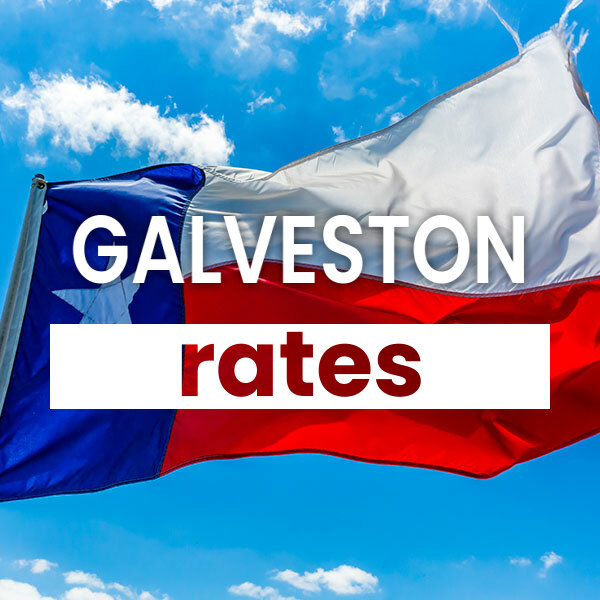 Five Cheapest Electric Rates for Galveston
Company
Term
Rate
Frontier Utilities
12/months
12.4¢/kWh
Gexa Energy
12/months
12.4¢/kWh
4Change Energy
24/months
12.5¢/kWh
Constellation
12/months
12.9¢/kWh
Discount Power
12/months
12.9¢/kWh
Rates as of Nov 28, 2023 at 07:27 PM
Green Energy Options in Galveston
Most Texas electricity companies have a 100% green / renewable energy plan, where 100% of the energy you buy supports renewable energy generators. Some Galveston electricity companies are exclusively green, where every plan is 100% green and prices and rates support 100% green energy and renewable generation.
Company
Term
Rate
Gexa Energy
12/months
12.4¢/kWh
Chariot Energy
24/months
15.2¢/kWh
Rhythm
24/months
16.0¢/kWh
APG&E
12/months
16.7¢/kWh
GoodCharlie Energy
36/months
16.9¢/kWh
Rates as of Nov 28, 2023 at 07:27 PM
Galveston's Top Electricity Companies
Power To Choose for Galveston residents
In Galveston, having the "Power To Choose" means customers have their choice of dozens of great electricity plans from top-rated providers like these:
Galveston participates in Texas's deregulated electricity market, which means you have a choice of who will provide your retail electricity.
Compare Great Electricity Rates & Plans - Enter Your Zip Code
No Deposit & Prepaid Plans for Galveston
There are several no deposit light companies in Galveston that can get your lights on tonight. No deposit electricity plans require that you prepay for your electricity. You can order online, and deposit a small amount - generally $25-$75 and get your lights on in a few hours. Once you've ordered service, you download an app and that reminds you when you need to deposit more money to keep your lights on.
Company
Term
Rate
Payless Power
6/months
18.5¢/kWh
Payless Power
12/months
18.8¢/kWh
Rates as of Nov 28, 2023 at 07:27 PM
Galveston Rates, Plans and Provider FAQ
About Galveston Texas
History of Galveston
Galveston is an island, and its inhabitants named the area Arie. Even though there is no actual information concerning their landings and route, there is a group of people that wrecked a ship with Cabeza de Vaca in 1528. It was in 1816 that the first European settlements were started to be constructed. These settlements helped them support the Mexicans who were in rebellion with the Spanish. In 1817, Aury returned from an unsuccessful raid and found that the pirates had already occupied Galveston, and Jean Lafitte led them.
The Port of Galveston was established in 1825 by the Congress of Mexico, while the customs house was erected in 1830. There was a time when Galveston served as Texas' capital in 1836 when the interim President David Burned moved his government to the city.
Galveston Culture
Galveston is home to Galveston Arts Center, which was incorporated in 1986 and it's considered a non-profit arts organization. The center's purpose is to exhibit contemporary art, mostly from Texas-based artists, not to forget that it also offers outreach and educational programs. Most importantly, the center produces and organizes Galveston ArtWalk. Entry to the museum is free to everybody.
Landmarks in Galveston
Galveston Island Historic Pleasure Pier

This amazing landmark is considered an incredible pleasure pier in the heart of Galveston city. The pier was opened to the public in 2012, characterized by 15 rides, souvenir shops, one roller coaster, and carnival games. Upon visiting this place, you will have fun rides and nice food, not to forget that there is also a nice ocean view. There is no doubt that you will also love the Ferris wheel that is over the water. This place will provide you with nothing but an amazing nostalgic boardwalk experience.

The Bishop's Palace

This place is sometimes called Gresham's Castle, an ornate square that sits on a piece of land measuring 19,082 square feet. The house is designed using the Victorian design, located on Broadway and 14 th Street, towards the east end of the Galveston Historic District. Upon visiting this gorgeous house, you will surely enjoy the self-tour, and guess what? You will love the magnificent stained glass. There's no other beautiful gem like this in the city.
Tourist Attraction Cites in Galveston
Moody Gardens

This place is considered an incredible tourist site with a nice golf course and hotel. The site was opened in 1986, and it's considered a non-profit organization that utilizes nature to excite and educate visitors about wildlife and conservation. You can access this site at 1 Hope Blvd, Galveston, TX 77554, USA.

Galveston Island State Park

This amazing state park in Galveston is located towards the western side of the city in Galveston County; the park offers you a cool breeze and a nice view of the western Gulf Coast. There are also freshwater showers in the park, not to mention that it is also an incredible place to kayak. You can access this park at 14901 Fm 3005, Galveston, Galveston Island, TX 77554, USA.