Compare Arlington Electricity Rates & Energy Suppliers
We analyze, rank, and recommend the best electricity plans from the highest rated providers in Arlington.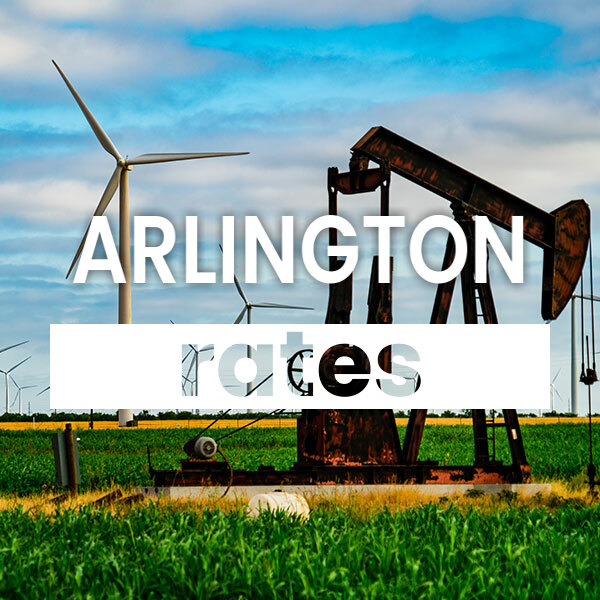 Top Five 12 Month Best Electric Rates for Arlington
Company
Term
Rate
Constellation
12/months
12.9¢/kWh
TXU Energy
12/months
13.9¢/kWh
BKV Energy
12/months
14.0¢/kWh
Rates as of Sep 22, 2023 at 08:26 PM
Five Cheapest 24 Month Electricity Prices in Arlington
Company
Term
Rate
4Change Energy
24/months
11.1¢/kWh
Gexa Energy
24/months
11.1¢/kWh
Frontier Utilities
24/months
11.1¢/kWh
Champion Energy Services
24/months
14.8¢/kWh
Rates as of Sep 22, 2023 at 08:26 PM
Arlington's Top 36 Month Fixed Rate Electric Plans
Company
Term
Rate
Veteran Energy
36/months
12.5¢/kWh
Rates as of Sep 22, 2023 at 08:26 PM
Average Electricity Rates & Energy Usage in Arlington
In November, the average electricity rate in Arlington was 14.82¢ per kWh. The average households monthly electricity usage was 845 kWh, making the average bill around $125.
based on EIA Data as of August, 2023
Arlington Energy Rates, Providers, and Plans FAQ
The following rates are available from Gexa Energy

The following rates are available from Gexa Energy

Champ Saver-24 is the cheapest rate from Champion Energy Services. It is a 24 month plan with a rate of 14.800 cents per kWh.

We recommend you compare electricity rates in Arlington and see if this plan is right for you.
Recent Customer Reviews about Electricity Providers
Excellent employee. Very kind and knowledgeable. Understanding and patient.
Belinda from Taylor, Texas
June 28th, 2023
Other information about electric rates in Arlington
Electricity Outages
To report an electricity outage or downed power line, contact xxxx at 000-000-0000
Cities Near
To report an electricity outage or downed power line, contact xxxx at 000-000-0000
Zip Codes
To report an electricity outage or downed power line, contact xxxx at 000-000-0000
About Arlington Texas
Founding of Arlington
During the winter of 1840, Major Jonathan Bird and volunteers of the Fourth Brigade of Texas Militia built Fort Bird on the Trinity River. It was here in 1843, that the Bird's Fort Treaty was signed with 9 Native American chiefs that set boundaries on native land and opened entire region to settlement by white Europeans.
The first trading post authorized by the treaty was Kaufman Station. In 1846, Colonel Middleton Tate Johnson's Company of Texas Rangers moved there. The station was later renamed the Marrow Bone Spring Post (now part of Vandergriff Park). Colonel Johnson eventually settled nearby in Tarrant County and set up a cotton plantation. As other settlers arrived, the area around his plantation became known as Johnson's Station.
Rev. A. S. Hayter (pronounced "high-ter,"), a Presbyterian minister and land surveyor, arrived in Tarrant County in the late 1860s. In 1875, the Texas and Pacific Railway Company arrived in the county looking to lay track between Dallas and Fort Worth and build a station. The railroad hired Hayter to survey a route near Johnson's Station. Instead, Hayter suggested a route a few miles further north that was empty, flat, and less prone to flooding. He also helped plot a new half-mile-square settlement around the new station. As a reward for finding a "peaceable" route, the railroad brass offered to name the new town after him. According legend, the Reverend declined, saying "Hayter" was often mispronounced. Instead, he suggested "Arlington"; the name of Confederate General Robert E. Lee's home.
The railroad made Arlington a center produce sales and shipments to other towns. Area farmers brought in cotton, hay, oats, corn, peanuts, potatoes, sorghum, and other crops, as well as dairy cattle and other livestock. By 1880, the total population was 275 people and in April, 1884, the town incorporated. In 1891, Rice Wood Collins, a successful merchant, started a public well campaign. So popular was the notion that the city soon drilled a well at the intersection of Main and Center streets. The mineral water that collected in the well was believed to have medicinal qualities. In short order, and a market developed for both the water and its crystals. In 1895, city ordinance used the well as the corner point of the city's four new political wards.
The early 1900s saw the evolution of Arlington from a quiet rail stop to a busy produce and cotton ginning town of about 1,000 people. A regional interurban railway and a phone company started serving the town only a few years before natural gas piping began supply heat and light to homes. The city expanded its downtown area and formed its first high school, Other citizens founded Arlington College as a private school (ultimately joining the University of Texas system).
Before World War II, about 3,031 people called Arlington home. By 1950 population had more than doubled to 7,692. The town's future lay squarely in car when General Motors built its assembly plant in 1953. It's almost no surprise that the Dallas Fort Worth Turnpike opened in 1957, relieving travelers between the two cities of having to endure 80 stoplights along State Highway 80.
Today, Arlington covers nearly 100 square miles and is home to about 400,000 people, making it the second-largest city in the county after Fort Worth, and the seventh-most populous in Texas. The largest Arlington racial/ethnic groups are White (38.5%) followed by Hispanic (29.2%) and Black (22.4%). The city is now best known for its automotive and aerospace industries and is home to the Texas Rangers American League baseball team and the Dallas Cowboys NFL football team.
Arlington Landmarks
Fort Bird - A marker for the site of Fort Bird is at River Legacy Parks near the West Fork Trinity River bridge in Arlington.
Marrow Bone Spring Archeological Site --located in Vandergriff Park in Arlington, the area was a native American settlement in the 1700s, later becoming a trading post in the 1800s and thought to be the first Anglo settlement in the Arlington area. Boulders are visible along the creek where natives ground corn.
Arlington College -- opened in September 1895 as a private school with 75 students on a site near the present UTA Hereford Student Center. In 1967, with the college's eighth name change, it became known as the The University of Texas at Arlington.
The Mineral Well (1892-1951) -- once located at the intersection of Center and Main Streets, the original well was drilled by a wood-powered steam engine in 1893 and provided water for animals. In 1910, the mineral well was rebuilt to include water flowing through lions' heads mounted on a four-sided structure. In 1951, the famed well was permanently capped and paved over.
Top O' Hill Terrace -- In the middle of Prohibition, around 1921, Beulah Marshall built Top O' Hill Terrace to attract wealthy customers for fining dining and afternoon teas. The home was located west of Arlington along the Bankhead Highway and often patronized by the wealthy and respected members of society. But in 1929, Fred and Mary Browning bought the place to pursue a different class of wealthy customers. Above ground, the pair ran the Terrace's tea garden. But, it was below ground where Fred built his illegal casino, equipping it with escape tunnels, secret rooms, a fifty-by-sixty-foot gaming room, a twelve-foot curved bar with a wall of mirrors behind it, and a brothel. The guests were the who's who of the day: Dean Martin, Hedy Lamarr, John Wayne, Howard Hughes, Buster Keaton, W. C. Fields, Lana Turner, Frank Sinatra, and many more. Reverend J. Frank Norris, pastor of Fort Worth's First Baptist Church, vowed to shut down the establishment. In 1947, Texas Rangers raided the place and did just that. Since 1956, Top O' Hill has been part of Arlington Baptist University.
Lake Arlington -- the lake was created in 1957 by damming Village Creek. Shortly after completion, Rains fill the reservoir to to capacity in just 26 days. Though swimming is prohibited, the lake is a recreational destination for boating and fishing.
Arlington Culture
Arlington has an estimated population of about 400,000. In terms of diversity, Arlington is the second-highest ranked Texas city; the largest racial/ethnic groups are White (38.5%) followed by Hispanic (29.2%) and Black (22.4%). Not surprisingly, a thriving arts and music scene has sprung up around the UTA campus area and has become the Arlington Cultural District. The area is home to Theatre Arlington, one of the largest community theaters in the nation, and the Levitt Pavilion Arlington which offers 50 free concerts per year in featuring a diverse range of music genres.
Arlington is basically a post war suburb that's still growing. That said, neighborhoods here still have their own character. While downtown is full of restaurants, nightlife, businesses, and shopping, both East Arlington and South East are characterized by outdoor recreational experiences and green surroundings. Similarly, Viridian is best known as one of the wealthiest neighborhoods. One thing they all continue to share is that the area's attractions are all within driving distance.
Arlington Attractions
Arlington offers both adults and children of all ages lots to see and do.
Six Flags Over Texas & Hurricane Harbor -- Six Flags Over Texas offers over 40 thrilling rides from roller coasters and drop towers to flume rides and spinning teacups. Plus check out the spectacular shows and delicious food around every corner. Then put on your swimsuit! Hurricane Harbor is the largest water park in north Texas and features 47 acres of thrilling water rides, family water slides, a splash-pad, a lazy river ride made for relaxing, and the million-gallon Surf Lagoon wave pool that makes ocean-size waves!
Arlington Museum of Art -- First opened in 1974, the museum presents internationally-renowned collections and exhibits on tour that attract visitors from all over the world. The museum also hosts art-related adult workshops, children's classes, film screenings, and lectures.
Arlington Music Hall is a 1950s movie theater that has been converted and renovated into a top notch venue for concerts by top artists for country, pop, rock, classical, comedy and musical theatre. It's also the home to Symphony Arlington.
UTA Planetarium -- One of the three largest planetariums in Texas, the UTA Planetarium uses a 60-foot dome projection surface and digital projection system to present realistic views night sky, the Solar System, stars, and distance galaxies. The theater provides comfortable reclining seats for an audience of nearly 150, is wheelchair friendly, and can provide radio headsets for the hearing impaired.
Sports:

Texas Rangers at Globe Life Field -- In 1971 the Washington Senators moved to Arlington and became the Texas Rangers. Globe Life Field is located northeast of downtown Arlington near AT&T Stadium.
Dallas Cowboys at AT&T Stadium -- The NFL Dallas Cowboys announced in 2004 that the organization would leave its home in Irving and move to a new stadium in Arlington. AT&T Stadium is not far from Globe Life Field and is located northeast of downtown Arlington.
Arlington is home to the United States Bowling Congress, the national governing body of bowling and also the International Bowling Museum & Hall of Fame. The museum is located across the street from Six Flags Over Texas.