Champion Energy Wins Staggering 4th Straight J.D. Power Award
Posted on

In what is increasingly looking like a foregone conclusion, Champion Energy has ranked in the top spot of the 2013 J.D. Power & Associates survey for Texas electricity customer satisfaction. This marks the fourth straight year that Champion Energy has won the coveted award. Last summer marked them as the first three-time winner of the award. From the press release:
Champion Energy Services ranks highest among retail electric utility providers in Texas for a fourth consecutive year, with a score of 764. Champion Energy Services performs particularly well in price; billing and payment; enrollment/renewal; customer service; and communications.
Champion posted a cumulative score of 764. Congratulations to Champion Energy! Also of note was Green Mountain Energy, which managed to come away with the 2nd spot in the survey with a cumulative score of 737. That is a huge improvement over their 2012 score of 691, and was enough to vault them 9 spots into 2nd place, edging out Bounce Energy who had a cumulative score of 736. Rounding out the top 5 were StarTex Power and Brilliant Energy, with scores of 730 and 720 respectively. The entire chart is listed below: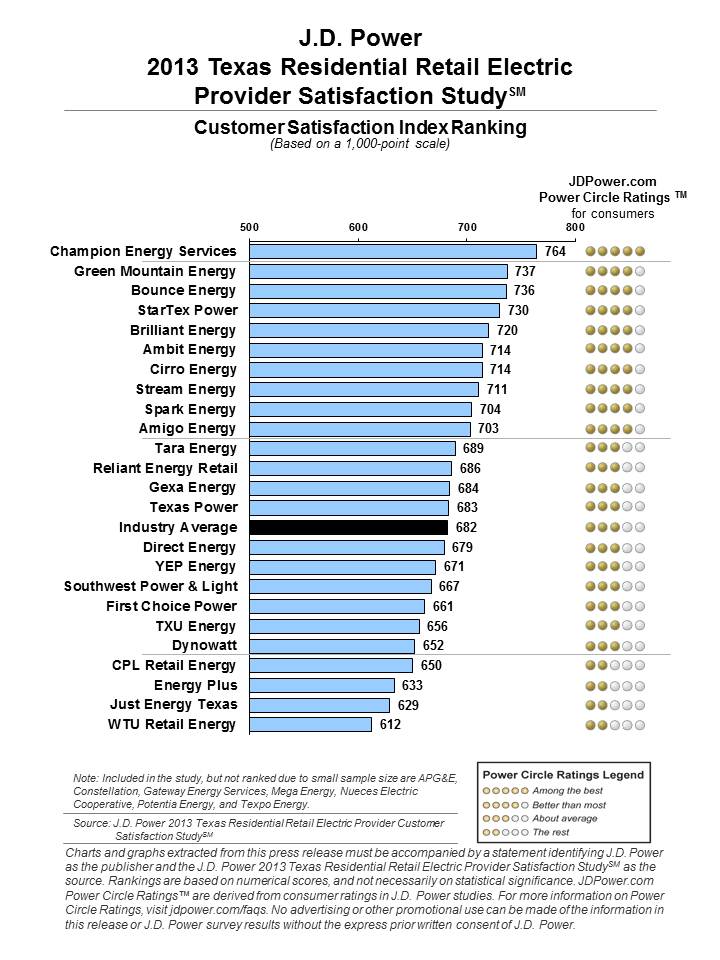 I'll be back tomorrow with a post examining the findings in a bit more detail, as well as an update to the Texas Electricity Ratings rankings.