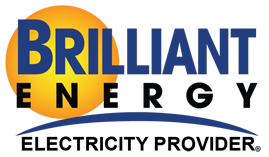 Quick Links
Brilliant Energy is a Houston, TX based retail electricity provider that was founded in 2007. Brilliant Energy services both residential and commercial electricity customers.
One you've researched a Brilliant Energy, you can exercise your power to choose and compare electricity rates from competitive providers. Texas has over 50 competitive providers to choose from. There are no switching fees, your electricity stays on throughout the whole process, and no special equipment is needed. If you're moving to to Texas, your new provider will turn on your power and set up your new service.
Remember, the cheapest electricity rate may not be the best, that's why we provide recommended plans based on your home size. You'll find dozens of choices and options to choose from, whether you're looking for a 12 month fixed rate plan or a month to month plan. You can also choose green energy plans, plans with Rewards, Incentives, and Smart Home plans featuring free programmable thermostats such as the Nest thermostat. We've made it easy by recommending plans and providers that have proved that they provide the best customer service and a great electric rate for your home or business.
Once you've found the plan that makes sense for you, your provider will require a credit check to determine if a deposit is needed to establish service. If you do not have credit established or have poor credit, there are no deposit electricity plans available at competitive terms.
Recommended Plans
All Plans
Brilliant Energy News
Champion Energy Wins Staggering 4th Straight J.D. Power Award
In what is increasingly looking like a foregone conclusion, Champion Energy has ranked in the top spot of the 2013 J.D. Power & Associates survey for Texas electricity customer satisfaction. This marks the fourth straight year that Champion Energy has won the coveted award. Last summer marked th...
PUC Denies AEP to Sell Electricity in Texas as "AEP Retail Energy."
In what I consider great news, and despite an earlier ruling by a Texas judge, last week the PUC voted 2-1 to forbid AEP from using the name "AEP Retail Energy" to sell electricity in the state of Texas. I wrote extensively about what I saw as the dangers of selling Texas electricity under the A...
AEP Gets Approval To Sell Texas Electricity as AEP Retail Energy
In what I consider to be extremely poor tidings, Paul Ring of Energy Choice Matters is reporting that a judge in the Texas Courts is going to allow AEP to sell retail electricity as "AEP Retail Energy" under the license name AEP Texas Commercial & Industrial Retail Limited Partnership. I've written...
Brilliant Energy FAQs
Where can I order Brilliant Energy electricity?
---
Brilliant Energy does not have any electricity plans
Where can I order Brilliant Energy natural gas?
---
Brilliant Energy does not have any natural gas plans
What do customers think about Brilliant Energy?
---
That depends on who you ask. There will always be someone who feels wronged by a company, no matter how good they actually are. The average Brilliant Energy customer review is 0 / 5 stars. Keep in mind, consumers will go out of their way to complain far more often than they will to give praise.
Why is my electricity rate higher than when I signed up?
---
The rate you see when you sign up is the average rate at that exact amount of usage in one billing cycle. Some companies try to game the system by applying bill credits between certain usage thresholds. It works great if you are within the margins, but as soon as you leave that band you no longer get that bill credit and your rate per kWh can double. The PUC only requires that companies disclose their average rates at 500, 1000, and 2000 kWhs. Companies can get around this by giving you a $50 bill credit if you use between 1000 and 2000 kWhs per billing cycle. The only way to really know what you're getting into is to read your EFL. A 10¢ rate at all usage amounts may end up being cheaper than that 8¢ rate at 1,000 kWh!
Brilliant Energy Plan Summary
Brilliant Energy does not currently have any plans available on Texas Electricity Ratings.
We recommend plans from
Champion Energy Services
and
TXU Energy
instead.
Best 24 Month Plan
$
158
est. avg. bill
Based on a
yearly usage curve
averaging
0
kWh per month