Pasadena Electricity Rates, Plans & Suppliers
Currently, the cheapest Pasadena electricity rate is 15.4 ¢/kWh, 27% lower than the average rate of 21.1 &cent/kWh.
Based on recent order data, the best electricity providers in Pasadena are Gexa Energy, Champion Energy Services, and TriEagle Energy.
69% are choosing plans with a contract length of 12 months, with 24 month contracts being the second most popular choice at 24%.
The average electric bill in Pasadena ranges from $180 to $310, with an average electricity usage of 1100-1400 kWh per month.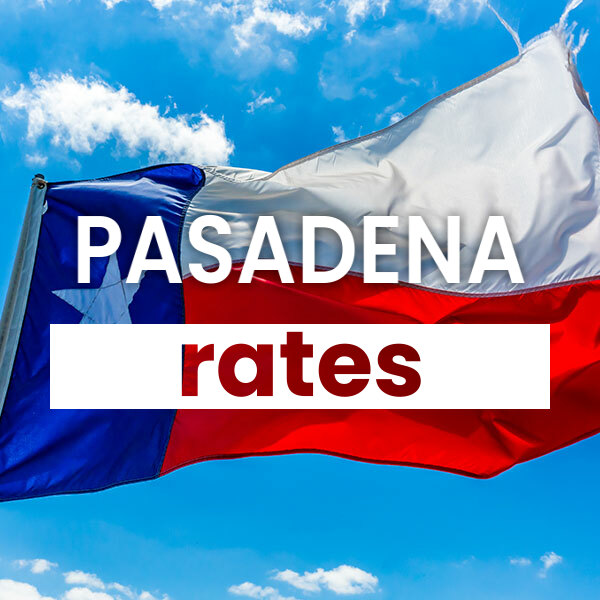 Five Cheapest Electric Rates for Pasadena
Company
Term
Rate
Frontier Utilities
12/months
12.4¢/kWh
Gexa Energy
12/months
12.4¢/kWh
4Change Energy
24/months
12.5¢/kWh
Constellation
12/months
12.9¢/kWh
Discount Power
12/months
12.9¢/kWh
Rates as of Nov 28, 2023 at 08:26 PM
Green Energy Options in Pasadena
Most Texas electricity companies have a 100% green / renewable energy plan, where 100% of the energy you buy supports renewable energy generators. Some Pasadena electricity companies are exclusively green, where every plan is 100% green and prices and rates support 100% green energy and renewable generation.
Company
Term
Rate
Gexa Energy
12/months
12.4¢/kWh
Chariot Energy
24/months
15.2¢/kWh
Rhythm
24/months
16.0¢/kWh
APG&E
12/months
16.7¢/kWh
GoodCharlie Energy
36/months
16.9¢/kWh
Rates as of Nov 28, 2023 at 08:26 PM
Top Pasadena Electricity Companies
What 'power to choose' means in Pasadena
Thanks to the Texas deregulated electricity market, people in Pasadena were granted the "power to choose your electricity provider". This means you can compare over 40 rates from awesome established electricity providers like these:
Shop & Compare Electricity Plans Rates Today - Enter Your Zip Code
No Deposit & Prepaid Plans for Pasadena
There are several no deposit light companies in Pasadena that can get your lights on tonight. No deposit electricity plans require that you prepay for your electricity. You can order online, and deposit a small amount - generally $25-$75 and get your lights on in a few hours. Once you've ordered service, you download an app and that reminds you when you need to deposit more money to keep your lights on.
Company
Term
Rate
Payless Power
6/months
18.5¢/kWh
Payless Power
12/months
18.8¢/kWh
Rates as of Nov 28, 2023 at 08:26 PM
Pasadena Rates, Plans and Provider FAQ
About Pasadena Texas
History of Pasadena
Before the Europeans settled in the Galveston Bay region, the area was home to the Atakapan and Karankawa tribes, particularly the Akokisa. This tribe lived in the entire Gulf Coast area. Some Spanish explorers like Rivas-Iriarte and Jose Antonio charted the bay and gave it its name. There was also a short-lived kingdom that Jean Lafitte established in the early 19 th century, and it was characterized by hide-outs and bases around Clear Lake and within the bay. However, it was in 1821 that the United States Navy forced Lafitte to leave.
After Spain declared independence, the new Mexican nation moved towards the north to colonize other territories by offering land grants to the natives and settlers from Mexico and those from the closest United States. In 1835, Texas went against Mexican rule after a coup that General Antonio Lopez attempted. After many battles, the last battle of the Texas Revolution occurred near the present Pasadena in 1836. Even though the main battle occurred in the present day La Porte, Pasadena is where Santa Anna was captured at the Vince Bayou.
Culture of Pasadena
Pasadena is home to the famous Pasadena Historical Museum, among other museums. These museums include Bay Area Museum and the Armand Bayou Nature Center. Additionally, the city has a community theatre, the Pasadena Philharmonic, and an annual rodeo. The main city newspaper is called the Pasadena Citizen. In 2005, the Champion paper mill was closed. Several country music songs have been recorded with "Pasa-get-down-dena" as the main title, including Kenefick's album "Hard Road." It is in this city where the Strawberry Festival takes place.
Landmarks in Pasadena
San Jacinto Battleground State Historic Site

This landmark includes the location of the San Jacinto Battle and the museum ship USS. The spot is off the Houston Ship Channel in unincorporated Harris County near Houston City. In 1960 is when the site was designated a National Historic Landmark. The most prominent feature of the park is the San Jacinto Monument.

Armand Bayou Nature Center

This is an extensive conservation area that is characterized by several activities. The center is located southeast of Houston between the Bayport Industrial District and the Johnson Space Center. The nature center spans 2,500 acres and is the largest wilderness preserve in the USA.
Tourist Attraction Sites in Pasadena
NASA Johnson Space Center

This is a human spaceflight where human spaceflight training takes place, and flight control and research are also done. The place was renamed to honor the late President Lyndon B. Johnson, a Texas native. You can access this spot at 2101 E NASA Pkwy, Houston, TX 77058, USA.

San Jacinto Museum of History

This is a historical tower in La Porte where the Texas Revolution battle occurred. If you are a fan of history, then this is a must-visit place for you once in Texas. Nothing is amazing as learning the history of your home state. But, of course, it would help if you also did the elevator to the top. The spot's address is 1 Monument Cir, La Porte, TX 77571, USA.