Shop Houston's Best Green Electric Rates
Posted on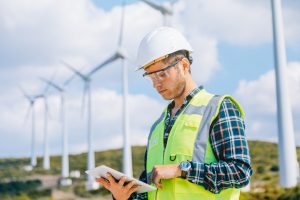 Who Has Houston's Best Green Electric Rates?
The competition is fierce among Houston's best green electric plans. The price differences among the cheapest plans amount to no more than a few dollars per month. In such a market, each retail electricity provider's reputation and each plan's features are critical to choosing the right plan. After all, you want a cheap and full-featured plan with a reliable light company, and that's exactly what you get with Houston's best electric plans. 
Score Big With Houston's Best Green Electric Plan
One plan takes the top prize for Houston's best green electric bill is the
Fieldgoal 12
plan from
Varsity Energy
. With no base charge and a low per-kWh rate, this plan is a good choice for customers of all usage levels. For example, residential customers in tiny downtown apartments and those in
River Oaks
mansions pay electric bills in line with their usage. As a result, the customer with average 1,000 kWh per month pays $103 per month for the 12-month contract term. This is the lowest price currently available for renewable energy. 
Meanwhile, you can lock in a 24-month term with the
Fieldgoal 24
plan for a slightly higher rate. All the terms are the same including a $150 early termination fee. With either plan, you'll feel like you scored a touchdown for
your Houston home
. 
Varsity Energy
maintains a 3-star rating on
Texas Electricity Ratings
. 
Green Energy With Low Early Termination Fees 
Spark Energy
offers two competitively priced green electricity plans:
Spark Green Secure 24
and
Spark Green Secure 12
. In contrast with the plans discussed above, the 24 month contract is slightly cheaper than the 12-month option. The 24 month plan's average bill at 1,000 kWh is $105, one dollar cheaper than the one-year plan. Both plans have a low $100 early termination fee. 
Texas electricity customers
give
Spark Energy
a 2-star rating. 
Renewable Energy From A 5-Star Light Company
The
Solarize 36
plan from
Chariot Energy
offers a similar pricing structure to the other cheap green electricity plans. This three-year plan gives customers an average bill of $106 when usage averages 1,000 kWh. What truly sets Chariot Energy apart from the other companies is its 5-star rating. So, if you're willing to pay about $3 more per month, you can attach yourself to a company other Texans love.
The early termination fee is $15 per month for every month remaining on your contract, so it costs more to break your contract if you do it too soon after signing up. 
Compare Houston's Best Green Electric Rates

There's a good chance one or more of these plans will meet your energy needs. But you have plenty more options when you

compare power plans

.  Shop more Houston electricity rates at https://www.texaselectricityratings.com to find the one that's right for your home.