Rainbow Electricity Rates, Plans & Suppliers
Currently, the cheapest Rainbow electricity rate is 12.9 ¢/kWh, 36% lower than the average rate of 20.2 &cent/kWh.
Based on recent order data, the best electricity providers in Rainbow are Champion Energy Services, 4Change Energy, and Gexa Energy.
42% are choosing plans with a contract length of 12 months, with 24 month contracts being the second most popular choice at 24%.
The average electric bill in Rainbow ranges from $150 to $310, with an average electricity usage of 1100-1400 kWh per month.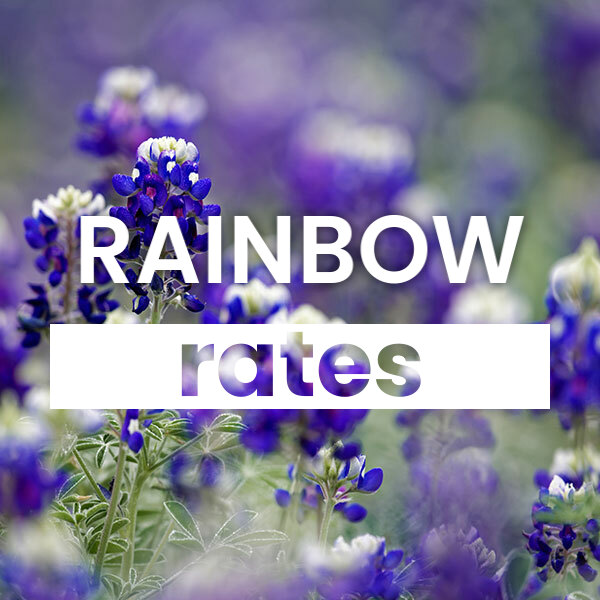 Five Cheapest Electric Rates for Rainbow
Company
Term
Rate
Frontier Utilities
12/months
14.3¢/kWh
Gexa Energy
12/months
14.4¢/kWh
4Change Energy
24/months
14.5¢/kWh
APG&E
6/months
14.7¢/kWh
Reliant
24/months
14.9¢/kWh
Rates as of Nov 28, 2023 at 07:33 AM
Green Energy Options in Rainbow
Most Texas electricity companies have a 100% green / renewable energy plan, where 100% of the energy you buy supports renewable energy generators. Some Rainbow electricity companies are exclusively green, where every plan is 100% green and prices and rates support 100% green energy and renewable generation.
Company
Term
Rate
Gexa Energy
12/months
14.4¢/kWh
Chariot Energy
24/months
15.9¢/kWh
Rhythm
24/months
16.8¢/kWh
GoodCharlie Energy
36/months
17.9¢/kWh
TriEagle Energy
24/months
18.3¢/kWh
Rates as of Nov 28, 2023 at 07:33 AM
Rainbow's Top 5 Electricity Companies
Rainbow Power To Choose
Thanks to the Texas deregulated electricity market, people in Rainbow were granted the "power to choose your electricity provider". This means you can compare over 40 rates from awesome established electricity providers like these:
Shop & Compare Electricity Plans Rates Today - Enter Your Zip Code
No Deposit & Prepaid Plans for Rainbow
There are several no deposit light companies in Rainbow that can get your lights on tonight. No deposit electricity plans require that you prepay for your electricity. You can order online, and deposit a small amount - generally $25-$75 and get your lights on in a few hours. Once you've ordered service, you download an app and that reminds you when you need to deposit more money to keep your lights on.
Company
Term
Rate
Payless Power
6/months
19.7¢/kWh
Payless Power
12/months
20.0¢/kWh
Rates as of Nov 28, 2023 at 07:33 AM
Rainbow Rates, Plans and Provider FAQ
Find rates for your zip code in Rainbow