Compare Grand Prairie Electricity Rates & Energy Suppliers
We analyze, rank, and recommend the best electricity plans from the highest rated providers in Grand Prairie.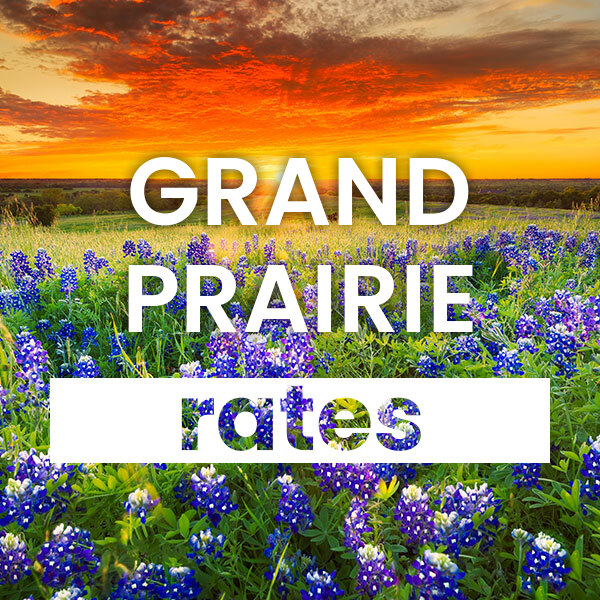 Top Five 12 Month Best Electric Rates for Grand Prairie
Company
Term
Rate
Constellation
12/months
12.9¢/kWh
TXU Energy
12/months
13.9¢/kWh
Rates as of Sep 25, 2023 at 03:26 PM
Five Cheapest 24 Month Electricity Prices in Grand Prairie
Company
Term
Rate
4Change Energy
24/months
11.1¢/kWh
Frontier Utilities
24/months
11.1¢/kWh
Gexa Energy
24/months
11.1¢/kWh
Champion Energy Services
24/months
14.8¢/kWh
Rates as of Sep 25, 2023 at 03:26 PM
Grand Prairie's Top 36 Month Fixed Rate Electric Plans
Company
Term
Rate
Veteran Energy
36/months
12.5¢/kWh
BKV Energy
36/months
14.3¢/kWh
Rates as of Sep 25, 2023 at 03:26 PM
Average Electricity Rates & Energy Usage in Grand Prairie
In November, the average electricity rate in Grand Prairie was 14.82¢ per kWh. The average households monthly electricity usage was 845 kWh, making the average bill around $125.
based on EIA Data as of August, 2023
Grand Prairie Energy Rates, Providers, and Plans FAQ
Recent Customer Reviews about Electricity Providers
Excellent employee. Very kind and knowledgeable. Understanding and patient.
Belinda from Taylor, Texas
June 28th, 2023
Other information about electric rates in Grand Prairie
Electricity Outages
To report an electricity outage or downed power line, contact xxxx at 000-000-0000
Cities Near
To report an electricity outage or downed power line, contact xxxx at 000-000-0000
Zip Codes
To report an electricity outage or downed power line, contact xxxx at 000-000-0000
About Grand Prairie Texas
Grand Prairie History
This incredible city is located in Ellis, Dallas, and Tarrant counties of Texas. Alexander McRae Dechman first established the city as Dechman in 1863. The name of the city was based on the Big Prairie of Ohio. Before moving to the city, Dechman lived close to Fort Belknap in Young County. According to history, it is believed that four enslaved people in the city were aged 50, 25, and 37 years. Alexander realized he could easily trade his wagons and oxen for land in Dallas. However, it was not until 1863 when Alexander bought a piece of land measuring 239.5 acres that were located towards the eastern part of River Trinity and another 100 acres of wooded land towards the western part in exchange for a faulty wagon, $200, and oxen team.
After the war, alexander went back to Birdville for two years before he sold the farm in 1867 and moved into Houston, followed by a yellow fever breakout that forced his family to live in Bryan. In 1876, he traded half of his prairie property to T&P Railroad to ensure the rail passed through this town. As a result, good Hope Cumberland Sabbath School was the first church in the region.
Grand Prairie Culture
The Grand Prairie Chamber of Commerce is in charge of arts, sports, recreation, entertainment, and culture. In this city, you will find the Alley Cats, an entertainment center measuring 40,000 square feet. The city is also home to the Hispanic Association for Culture and Education, a non-profit organization. Grand Prairie is also considered one of the biggest industrial districts in Texas. The city is centrally and very close to highway and air transportation infrastructure.
Landmarks in Grand Prairie
Cedar Hill State Park

This amazing park is located on Lake Joe's eastern shore and FM 1382. The park is ten miles towards the southwest side of Dallas. The park was bought in 1982 and was opened to the public in 1991. The 1,826-acre park is operated by the Texas Parks and Wildlife Department.

Cedar Ridge Preserve

This is an incredible mammal, bird, and butterfly habitat. You will surely love the place when you visit it because it's a place where you can also work out. Additionally, the park has some nice views from different elevations. Also, you will love that the restrooms near the entrance are well-maintained.
Tourist Attraction Sites in Grand Prairie
Six Flags Over Texas

This amazing amusement park covers 212 acres and is the first amusement park within the six flags chain. The park was opened to the public in August 1961 after a whole year of construction, and the initial investment was $10 million. The amusement park is located at 2201 Rd to Six Flags St E Arlington, TX 76011, USA.

Epic Waters Indoor Waterpark

This amazing place is characterized by pools and slides in a large, bright space. Once you visit this place, you will fall in love with the lazy river and love its arcade. The place is also a much warmer city where you can enjoy your time. It is located at 2970 Epic Place, Grand Prairie, TX 75052, USA.