Compare Waco Electricity Rates & Energy Suppliers
We analyze, rank, and recommend the best electricity plans from the highest rated providers in Waco.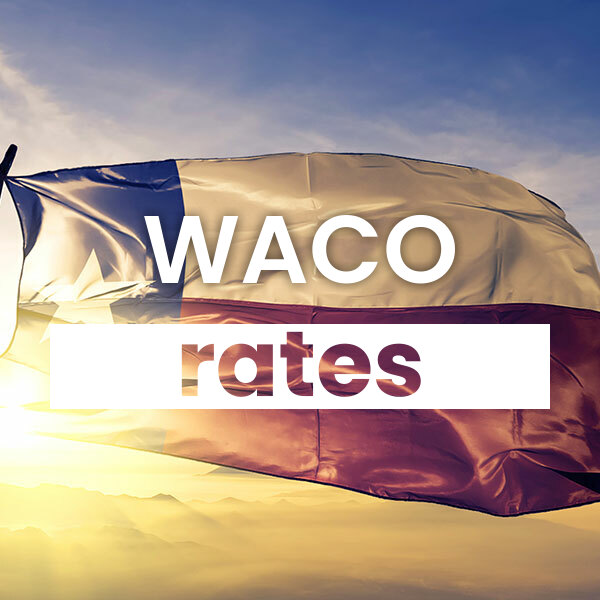 Top Five 12 Month Best Electric Rates for Waco
Company
Term
Rate
Constellation
12/months
12.9¢/kWh
TXU Energy
12/months
13.9¢/kWh
Rates as of Sep 25, 2023 at 02:26 PM
Five Cheapest 24 Month Electricity Prices in Waco
Company
Term
Rate
4Change Energy
24/months
11.1¢/kWh
Frontier Utilities
24/months
11.1¢/kWh
Gexa Energy
24/months
11.1¢/kWh
Champion Energy Services
24/months
14.8¢/kWh
Rates as of Sep 25, 2023 at 02:26 PM
Waco's Top 36 Month Fixed Rate Electric Plans
Company
Term
Rate
Veteran Energy
36/months
12.5¢/kWh
BKV Energy
36/months
14.3¢/kWh
Rates as of Sep 25, 2023 at 02:26 PM
Average Electricity Rates & Energy Usage in Waco
In November, the average electricity rate in Waco was 14.82¢ per kWh. The average households monthly electricity usage was 845 kWh, making the average bill around $125.
based on EIA Data as of August, 2023
Waco Energy Rates, Providers, and Plans FAQ
Recent Customer Reviews about Electricity Providers
Excellent employee. Very kind and knowledgeable. Understanding and patient.
Belinda from Taylor, Texas
June 28th, 2023
Other information about electric rates in Waco
Electricity Outages
To report an electricity outage or downed power line, contact xxxx at 000-000-0000
Cities Near
To report an electricity outage or downed power line, contact xxxx at 000-000-0000
Zip Codes
To report an electricity outage or downed power line, contact xxxx at 000-000-0000
About Waco Texas
Waco City History
The City of Waco was founded in 1849 by the Huaco Indians who covered the region and the current downtown region. The city is strategically located on the I-35 corridor found between Austin and Dallas. If you are the type of person who is into restaurants and shop galore, this could be your best spot in Texas. The city is considered the county seat of McLennan County, TX, USA. Fresh waters from River Brazos give the city its evergreen and welcoming nature. As of the statistics 2020, the total number of residents in Waco was 138,486 thus the reason why it is considered the 22 nd most populated city in the United States. It could also help if you knew that the Waco metropolitan region is made up of Falls and McLennan counties. Together, the entire metropolitan region adds up to a population of 234,906 citizens. Waco's nicknames are "Hearts of Texas" and "Buckle of the Bible Belt"
You might be wondering how Waco got its name. The city's name is derived from the agrarian Indian tribe that lived in the area at first. Also known as the Hueco Indians, they were a group of the Wichita tribe who arrived in Central Texas in the early 1700s.
The city is famous because of its ancient tragedy that was between the extreme religious section named Branch Davidians and the federal government. This feud took place in 1993 and it lead to a deadly fire. It could also help if you knew that the only component in existence from the 1993 siege is the swimming pool from the Davidian compound and you can visit it today.
Landmarks in Waco, TX
The Waco Suspension Bridge
This is an historic suspension bridge that came into completion in 1870 thus the reason why it will always be an iconic landmark in downtown Waco. The bridge served as a Chisholm Trail crossing and after its completion, it was considered the longest single-span suspension bridge to the west of Mississippi. Cable used to build the bridge was supplied by the John Roebling Co. who also built New York's Brooklyn Bridge. The bridge's address is 101 N University Parks Dr, Waco, TX 76701, USA.
McLane Stadium
This is an incredible American football stadium strategically located in the heart of Waco city. It is owned and operated by Baylor University and its carrying capacity is 45,140. It is insinuated that the stadium took $266 million to construct. Initially, the stadium was named Baylor Stadium but was later renamed in honor of the University alumnus and business magnate Drayton Mc Lane Jr who spearheaded the fundraising for the stadium construction. Its address is 1001 S M.L.K. Jr Blvd, Waco, TX, USA.
Waco, TX Culture
Waco has abundant attraction sites, museums, libraries, parks and recreation sites. With that said, the city is considered a wonderful tourist destination point because of the Waco Mammoth National Monument, Mayborn Museum Complex, and Dr Pepper Museum among other museums.
Additionally, there are notable attraction sites like the Hawaiian Falls and the Grand lodes that are quite welcoming to tourists. If you are looking for a city that also serves as an educational center, Waco is the best place for you. Visit Waco today and enjoy it all!