Compare Laredo Electricity Rates & Energy Suppliers
We analyze, rank, and recommend the best electricity plans from the highest rated providers in Laredo.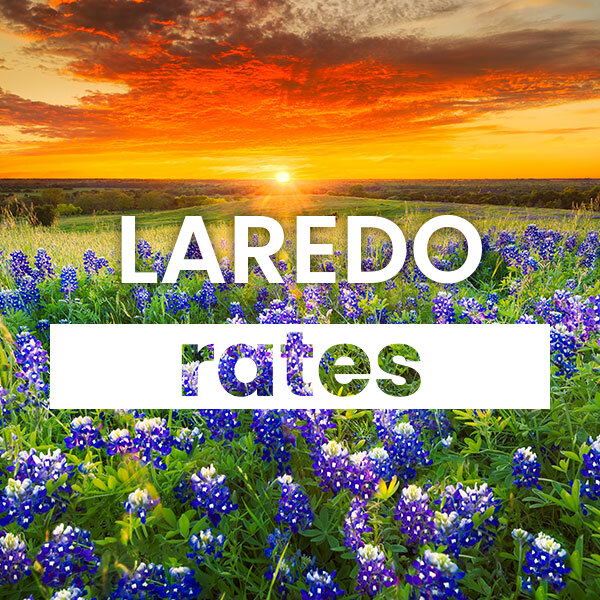 Top Five 12 Month Best Electric Rates for Laredo
Company
Term
Rate
Gexa Energy
12/months
11.8¢/kWh
4Change Energy
12/months
11.8¢/kWh
TXU Energy
12/months
14.5¢/kWh
Constellation
12/months
14.9¢/kWh
Rates as of Sep 23, 2023 at 06:26 AM
Five Cheapest 24 Month Electricity Prices in Laredo
Company
Term
Rate
Frontier Utilities
24/months
11.8¢/kWh
Champion Energy Services
24/months
14.9¢/kWh
Rates as of Sep 23, 2023 at 06:26 AM
Laredo's Top 36 Month Fixed Rate Electric Plans
Company
Term
Rate
Veteran Energy
36/months
14.1¢/kWh
BKV Energy
36/months
15.0¢/kWh
Rates as of Sep 23, 2023 at 06:26 AM
Average Electricity Rates & Energy Usage in Laredo
In November, the average electricity rate in Laredo was 14.82¢ per kWh. The average households monthly electricity usage was 845 kWh, making the average bill around $125.
based on EIA Data as of August, 2023
Laredo Energy Rates, Providers, and Plans FAQ
The following rates are available from Gexa Energy

Champ Saver-24 is the cheapest rate from Champion Energy Services. It is a 24 month plan with a rate of 14.900 cents per kWh.

We recommend you compare electricity rates in Laredo and see if this plan is right for you.

The following rates are available from TXU Energy
Recent Customer Reviews about Electricity Providers
Excellent employee. Very kind and knowledgeable. Understanding and patient.
Belinda from Taylor, Texas
June 28th, 2023
Other information about electric rates in Laredo
Electricity Outages
To report an electricity outage or downed power line, contact xxxx at 000-000-0000
Cities Near
To report an electricity outage or downed power line, contact xxxx at 000-000-0000
Zip Codes
To report an electricity outage or downed power line, contact xxxx at 000-000-0000
About Laredo Texas
History of Laredo
The Orcoquiza Native Americans initially occupied the piece of land. However, it was not until 1836 when the General Council of Texas placed the current Spring in Harrisburg County. In 1838 is when William Pierpont put a trading post on Spring Creek. As of 1840, the town had a total of 153 residents, and in the mid-1840s, the city was inhabited by many German immigrants, including Carl Wunsche and Gus Bayer. They migrated to the region and started farming. Some came from the parts of post-Civil war, like Louisiana, who migrated into the region.
The major cash crops grown in Spring were cotton and sugarcane. The residents also grew vegetables. In 1871, the Great Northern and the International Railroad that passed through Spring was opened. This railroad contributed to the town's expansion; as of 1884, the town had an estimated population of 150 residents. The town was served by two cotton gins, two grist mills, steam saws, many schools, and three churches. By 1910, the town's population had reached 1,200 citizens, and the Spring State Bank was launched in 1912.
Laredo Culture
Spring is famous because of the several parks, not to forget the bigger ones like the Jones State Forest and the small ones, including the Veterans Memorial Park. Additionally, there are many things you can do while in the city, like golfing and participating in some festivals that occur throughout the year. Once you become a resident in Spring, be prepared to experience a rural feel since many residents in this city own their homes. In addition, those young professionals and residents living in Spring tend to be liberal.
Landmarks in Laredo, TX
Pundt Park

This is an amazing outdoor area where you can practice some fishing and other recreational activities. The distance between the Dennis Johnston Park and this park is quite small, thus allowing you to take a small walk between the parks as you enjoy the beauty of Spring. The park has a good selection of playgrounds and equipment.

Spring Creek Greenway

This park is located along Spring creek and sits on a piece of land measuring 12,000 acres. You will experience a peaceful environment as you walk in the park along the natural habitat. You can engage in biking, walking, or hiking as well.
Tourist Attraction Sites in Laredo, TX
Hurricane Harbor Splashtown

This is an amazing waterpark designed with amazing pools, slides, and other happy hour spots. The park is located towards the northern side of Houston. If you are the type of person who loves season passes, this is the best place to make the steal. You can locate the site at 21300 I-45, Spring, 77373 TX, USA.

Old Town Spring

This amazing historic town is designed with shops constructed using the Victorian style, thus its attractive nature. This is the same reason why the place is said to have a lot of character, several restaurants, and a ton of unique shops. Get yourself some great food and amazing jewelry at this spot located at 403 Main St, Spring, 77373, TX, USA.