McAllen Electricity Rates, Plans & Suppliers
Currently, the cheapest McAllen electricity rate is 13.5 ¢/kWh, 32% lower than the average rate of 20.0 &cent/kWh.
Based on recent order data, the best electricity providers in McAllen are Champion Energy Services, Frontier Utilities, and Constellation.
43% are choosing plans with a contract length of 12 months, with 24 month contracts being the second most popular choice at 24%.
The average electric bill in McAllen ranges from $160 to $310, with an average electricity usage of 1100-1400 kWh per month.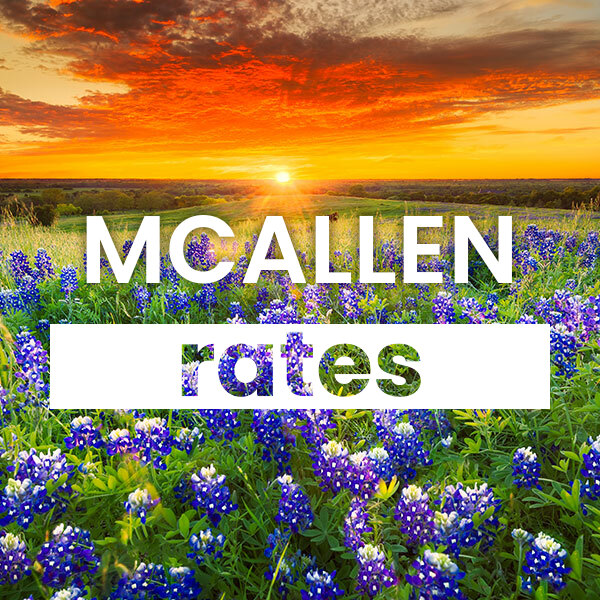 Five Cheapest Electric Rates for McAllen
Company
Term
Rate
4Change Energy
24/months
12.3¢/kWh
Frontier Utilities
12/months
12.3¢/kWh
Gexa Energy
12/months
12.4¢/kWh
Discount Power
12/months
12.9¢/kWh
Cirro Energy
24/months
12.9¢/kWh
Rates as of Dec 03, 2023 at 01:27 PM
Green Energy Options in McAllen
Most Texas electricity companies have a 100% green / renewable energy plan, where 100% of the energy you buy supports renewable energy generators. Some McAllen electricity companies are exclusively green, where every plan is 100% green and prices and rates support 100% green energy and renewable generation.
Company
Term
Rate
Gexa Energy
12/months
12.4¢/kWh
Chariot Energy
24/months
14.8¢/kWh
Rates as of Dec 03, 2023 at 01:27 PM
Company
Term
Rate
Rhythm
8/months
14.7¢/kWh
GoodCharlie Energy
36/months
15.9¢/kWh
Champion Energy Services
24/months
16.0¢/kWh
Rates as of Dec 03, 2023 at 01:27 PM
The Best Rated Electricity Companies in McAllen
No Deposit & Prepaid Plans for McAllen
There are several no deposit light companies in McAllen that can get your lights on tonight. No deposit electricity plans require that you prepay for your electricity. You can order online, and deposit a small amount - generally $25-$75 and get your lights on in a few hours. Once you've ordered service, you download an app and that reminds you when you need to deposit more money to keep your lights on.
Company
Term
Rate
Payless Power
6/months
17.9¢/kWh
Payless Power
12/months
18.4¢/kWh
Rates as of Dec 03, 2023 at 01:27 PM
Company
Term
Rate
Payless Power
6/months
18.5¢/kWh
Payless Power
12/months
19.0¢/kWh
Rates as of Dec 03, 2023 at 01:27 PM
Company
Term
Rate
Payless Power
6/months
18.8¢/kWh
Payless Power
12/months
19.3¢/kWh
Rates as of Dec 03, 2023 at 01:27 PM
McAllen Rates, Plans and Provider FAQ
About McAllen Texas
History of McAllen
San Miguel Extension and Hidalgo came to the Santa Anita Ranch in 1904. James and his father, John McAllen, donated land to the railroad constructors to ensure it crossed the region. However, it was not until December 5, 1904, that the McAllen Townsite Company came into existence after its formation by John McAllen, Lott Uriah, and James Balli McAllen, among other founders. This new community, formed and named after John, had a depot near its county seat Hidalgo which is 8 miles towards the south.
Most of the land on the city's east side was under cultivation by 1911. Crops cultivated included broom corn, figs, cotton, grapes, alfalfa, and citrus fruits, to mention a few. This year, this part of the city had an estimated population of 1,000 citizens since west McAllen was nonexistent.
McAllen Culture
It could help if you knew that McAllen is the home to IMAS (International Museum of Art and Science). This museum was founded in 1967 and is considered a Smithsonian Affiliate and an American Alliance of Museums that is also accredited. The museum is strategically located at the Bicentennial and Nolana Avenue corner. In addition, the McAllen Public Library operates several public libraries in the city.
Landmarks in McAllen, TX
Quinta Mazatlan

This is considered an urban sanctuary dedicated to ensuring that the public enjoys and appreciates nature. It is also considered a hidden gem in the city. Apart from being a beautiful place, it is also very interesting. There is also a nice gift shop on site with an array of attractive items. This is quite a notable place in McAllen.

McAllen Nature Center

Initially, the site was named McAllen Botanical Gardens and is under the operation of the nature preserve situated in the city. The site is sandwiched between Bentsen and Ware roads, located towards the western side of McAllen, and it is not that far from McAllen Conventional Center. The gardens were opened in 1962, and the main emphasis was on palms.
Tourist Attraction Sites in McAllen, TX
McAllen-Hidalgo International Bridge

This is an international bridge completed in 1926. It crosses the Rio Grande between Tamaulipas state, that's towards the northeastern part of Mexico, and Texas State, which is in the southwestern part of the US. It could be better if you were informed that some days are better than others. In most cases, the lines move at a nice speed, while at times, it may take time to cross the border, more so in the morning or late at night since not many people can wait. The bridge is at 1023 S International Blvd, Hidalgo, 8557 TX, USA.

McAllen Heritage Center

This spot is considered a native culture and history museum in the heart of McAllen city. The place is very nice, and its staff members are very nice people who are always ready to answer questions. There is a lot of history displayed there, and you will surely learn something through the help of the able staff members. The spot is 301 S Main St, McAllen, 78501, TX, USA.